Gilad Anni-Padda's monthly book kicks off with a tale thousands of years in the making.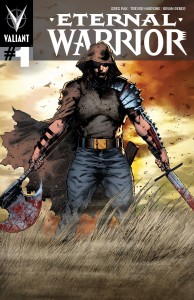 Gilad, if you're unaware, is the brother of Armstrong from Archer & Armstrong fame. The big guy's actual name is Aram Anni-Padda and he (along with Gilad) is a member of three immortal brothers who were granted their abilities by a mysterious and ancient device.
But where Aram is a jovial poet who really doesn't care for the violence that's often thrust upon him, Gilad relishes in it. Dubbed the Fist and Steel of Earth, Gilad has sworn to protect the planet and the lives of the Geomancers (sages and balancers of the natural world)… or has he?
As Eternal Warrior #1 opens, we see Gilad in his element. On an ancient battlefield, he prepares for war against the enemies of his people. A savage race who drug their soldiers to whip them into a frenzy, the Death Cult of Nergal want nothing but the wholesale slaughter of everyone they come across- be they man, woman or even child. Gilad is already the Eternal Warrior by this point and is something of a celebrity in his tribe right along with his two children, Mitu and Xaran.
Mitu is Gilad's son and fights at his side, while his sister Xaran has aspirations of glory as well. She's also very nearly a wild-woman who's temper rivals not only Mitu's, but Gilad's as well. It's an interesting mix with the three of them and seeing where Gilad was and how he lived before the modern Valiant age and reuniting with Aram was a very cool idea.
It's almost unfortunate that writer Greg Pak's story doesn't stay there longer as it skips a few millennia ahead to just before the opening of the Archer & Armstrong series that debuted last year. I guess in that way, the entire comic (and seemingly the whole opening story-arc) could really be looked at as one big flashback. Well, two flashbacks.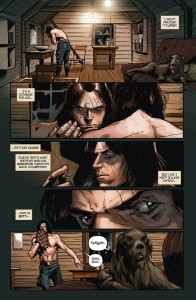 The differences between the ancient past portion of the tale and the modern section are stark as can be too. The action is constant and never really lets up in the old world as barbarians clash with immortals on the plains of a savage land. In the modern age however, and this is what the promo material has really highlighted, Gilad is no longer the Fist and Steel. He's resigned his 'post' and his pledge is something he no longer cares too much about. Of course, this quiet life (for him anyway) isn't something that's bound to last all that long.
Although the narrative does fast forward, it nonetheless flows well from era to era and isn't difficult to follow by any means. I actually would have liked to have seen more of the ancient past though, because frankly- it was freakin' cool. Hopefully something like that is destined for a spin-off or one-shot somewhere down the road…
Telling the visual tale is the work of Trevor Hairsine.You might know Hairsine from his pencils on X-O Manowar (among other things for both Marvel and DC) and if you do, then you know he's one of the best artists in the company and maybe in all of comicdom.
Hairsine has actually been locked up by Valiant and he's currently exclusive to the company. That's a boon for them as his work is heavy and deliberate with a grit to it that's perfect for a bloody, war-filled tale like Eternal Warrior. As great as his art was in X-O, I think he might actually be better here.
Final Thoughts
Eternal Warrior may not be perfect, but it's a very solid opening to the character's first series in the new Valiant Universe and a book that should make fans of sword & sorcery and 'superhero' action titles alike happy.
The story that's unfolding here is very interesting indeed and, while I don't want to give away too much, there's some absolutely massive twists and turns that I guarantee you won't see coming. And with Hairsine's art painting the visuals all the way through, I doubt you'll be complaining too much about that either.