What's more West Coast that a 'wellness' retreat? That and a bunch more stuff has just been revealed on the latest update to the official Grand Theft Auto V website…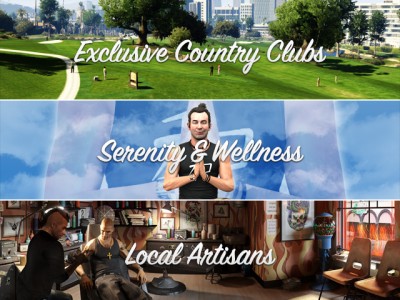 Not that I could really see any of the three main characters in GTA5 going to a wellness center or retreat mind you, but it's definitely something that you'd normally associate with the western-edge of the US. And hey, it might be nice to kick back and relax after a bit of grand theft and larceny. Just sayin'.
Anyhoo, the new screens released by Rockstar Games today show off quite a bit more of just what it is that you'll definitely be doing in the Los Santos area. Among the coolest stuff has the be the amount of aircraft that the game looks to have, that's pretty exciting as GTA has never been exactly known for its planes. Also pretty awesome- that sailboat. Not the fastest getaway vehicle, but you can't beat it in the pretty department.
Grand Theft Auto V pulls into the Xbox 360 and PS3 on September 17th- you can check out the official 'Travelogue' website by clicking here.