Another of the company's Summer Exclusives has arrived and it's wearing a green hazmat suit.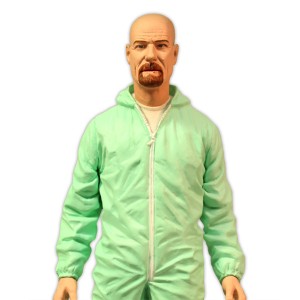 Walter White, as seen in the A No Rough Stuff Type Deal episode, is the newest Summer Exclusive from toy maker Mezco. Walt comes complete with a 55gal chemical drum (that's not shown), a trio of chemical lab bottles, removable specs and a green hazardous materials suit (like in the episode).
The figure is available in a 500 piece allotment only and once he's gone, he's gone. You can grab one for yourself either right here on Mezco's site, or at the NYCC this October.