Thinking about preordering the newest title in the Etrian Odyssey series? You might want to if you want in on the just announced preorder goodies.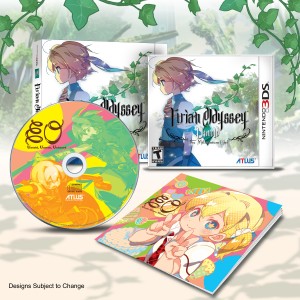 "Etrian Untold, Unseen, Unheard" is the name of the special set and with good reason since there's a little bit of everything in here. Here's what's in the box:
The collection will include a 7-track music CD which features an exclusive live version of the game's opening theme, an exclusive rough sketch version of the same, and other songs, arranged by series composer Yuzo Koshiro. It also includes a design book containing character art, comics and notes.
As for the game itself, Etrian Odyssey Untold: The Millennium Girl includes two different gaming experiences. In the first, players set out on a quest to "unravel the mystery of the Yggdrasil Tree's origins" while the second is more along the lines of what you'd expect from an Etrian title.
That mode is an update of the classic Etrian Odyssey, where you'll tackle dungeons filled with different challenges. Both modes support 3D graphics and Streetpass functionality, which is always a good thing. Sharpen your sword and get ready to raid some dungeons, Etrian Odyssey Untold: The Millennium Girl drops onto the Nintendo 3DS on October 1st.