Creeping into your favorite toy superstore next month…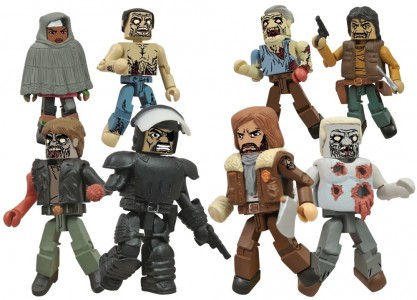 If you've been collecting Diamond Select's The Walking Dead Minimates for any length of time, then you've probably got a pretty solid legion of the undead going on right now. Series 4 of the Toys R Us-exclusive arm of the line is going to bloat that up even more with the addition of four new zombies and some very cool new versions of some fan-favorite characters.
Based on the famous Prison vs. Woodbury storyline, the assortment includes new, exclusive figures of Rick Grimes, the leader of the main band of survivors, and the Governor, the sadistic ruler of Woodbury. Both depict the characters as they appear towards the end of the storyline, bearing the severe injuries inflicted upon them by the Governor and Michonne, respectively. Both figures are exclusive to Toys "R" Us, and each comes with his own exclusive walker, the Gunshot Zombie and the Biker Zombie, respectively.

Also in the assortment are the sword-wielding Michonne (in her poncho) and a pre-conflict figure of the Governor, both of whom are also available in the specialty store assortment. However, the specialty-exclusive figures of Woodbury goons Gabe and Bruce have been replaced by two new zombies! Michonne comes with the Crawling Zombie, who has a lower body piece that allows him to drag his severed torso along the ground, and the Governor comes with the Jaw Zombie.
I'm not really what you'd call a zombie 'fan', but these continue to impress me in a big way. Based on the artwork of The Walking Dead comic artist Charles Adlard, the detail on the zombies (and even the human characters) in this series is amazing. It's easily some of the best work that Art Asylum has ever produced in DST's long running and varied Minimates line.
Grab series 4 for yourself at Toys R Us stores in September.