The Unity of old was a limited series based around a uniting of the previous Valiant Universe's heroes. As for the upcoming book to bear the name, that'll be an ongoing title based around a uniting of… villains?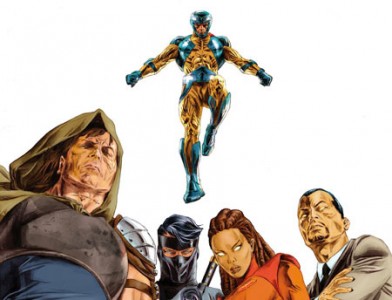 Well, not really. It's true that the lead character in Unity will be Toyo Harada, one of the most powerful characters in the Valiant U and all-around bad guy, but his team isn't what you'd really call villainous. After all, you've got some legit heroes standing shoulder-to-shoulder with Harada in those promo shots so the title of 'villain' doesn't really fit here. What's casting that evil glow though, is that this team was formed with only one goal in mind, that's to kill the one being that genuinely scares the bejeezus out of the Harbinger boss- X-O Manowar.
To kill a king…he has created an army. The world's most dangerous man, Toyo Harada, has been struck by the one thing he never thought possible – fear. Halfway across the globe, a new power threatens to topple modern civilization and, to preempt the cataclysm that is to come, Harada will unite the most lethal, most volatile, most unforgiving team the world has ever known – UNITY. Their mission: defeat the warrior king armed with the universe's most powerful weapon. Kill X-O Manowar!
Unity will be the first 'super-team' book from the publisher and it's being put together by a super-team of a creative squad including Matt Kindt and Doug Braithwaite, both of whom just signed exclusivity agreements with the publisher.
"UNITY is the single biggest thing that Valiant has thrown its weight behind since the launch of the company with X-O Manowar #1," said Valiant CEO and Chief Creative Officer Dinesh Shamdasani. "If you've heard the buzz about Valiant, if you've seen the incredible reviews, but have yet to try one of our titles, UNITY #1 is the perfect starting point. Matt Kindt and Doug Braithwaite are crafting an incredibly daring, action-packed epic from page one. UNITY is the very definition of can't miss comics."
In addition to the actual story, Unity is doing some very interesting stuff on the 'industry' end of things too. The book will offer a quintet of covers by such artists as Bryan Hitch (Age of Ultron and the Ultimates), J.G. Jones (Final Crisis, Wanted), Travel Foreman (Animal Man), Paolo Rivera (Daredevil), Clayton Crain (Ghost Rider, Carnage) and classic Green Lantern/Green Arrow artist- Neal Adams. Even more impressive is that the book will be 100% returnable by comic shops.
If you're wondering what that's about, it basically means that comic shops won't get run over for ordering the book and its five cover variants. If you know your comic history as go special comics, then you know that's a good thing. Unity #1 hits stores on November 13th, but you can have a look inside that first issue below and take a look at a very unhappy X-O. I've got a feeling that Harada's gonna need all the help he can get.