The makers of some of the finest replica weaponry from the video game world (and sponsors of our latest Brutal Contest) had yet another great showing at this year's SDCC.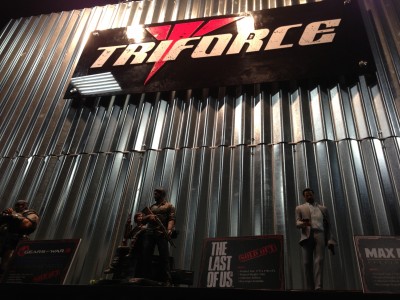 If you're looking for the most accurate, super-detailed replicas around then you probably already know the name Project TriForce. The NYC-based company has been on the forefront of high-end replicas since their debut a few years ago. Size and weight accurate to the games they're based on and with lighting effects built-in, Project TriForce's offerings are the next best thing to actually owning a real piece of your favorite game.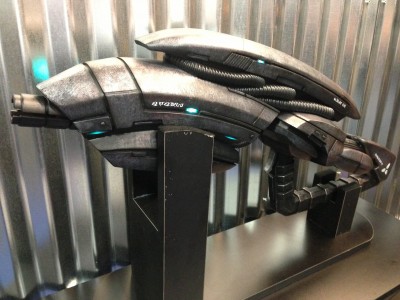 At this year's San Diego Comic Con, TriForce showed off their upcoming and very awesome Torque Bow from Epic's Gears of War series (which actually comes with a detachable warhead) as well as their lineup of Mass Effect hardware. In particular, the Carnifex Pistol and Geth Pulse Rifle were both looking pretty darned spectacular. I had the chance to hoist one of the pistols and the size and weight actually made it feel like holding a real sidearm from EA's uber-popular series.
Also on display was Batman's Batarang and Nightwing's Escrima Sticks from the Batman: Arkham series of games. Honestly (and this is from a big fan of the character), the Batarang set is like a dream come true for fans of the Dark Knight. It just looks awesome and comes complete with a massive gauntlet holding the iconic Batarang, all of which is situated on a display that's surrounded with mini-flood lights.
As for Nightwing's arsenal, the incredibly impressive display (which Project TriForce owner Drew Seldin told me was going to be a challenge to ship) might just be even cooler than the Batarang's and holds both sticks along with three secret compartments. Two of those drawers hold moulded darts, while the other one contains Dick Grayson's Robin crest from his days as the Boy Wonder and a special note from his mother. Awesome stuff- doubly so if you're a fan of DC's Dark Knight detective and crew.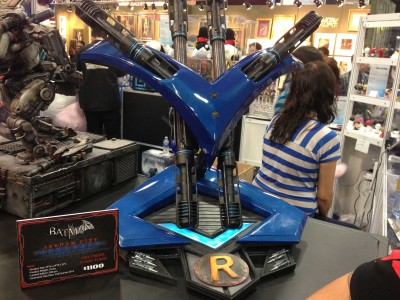 Keep an eye out, because TriForce has a ton of stuff coming up over the next few years in addition to what was shown off at the convention center. In the meantime though- have a look through our gallery below and see just what it is that makes Project TriForce one of the coolest companies around right now.
And make sure you hit them up at ProjectTriForce.com for even more of the good stuff.
Photo Credits: Jason Micciche