One of the most beloved X-characters of all time is about to return to the Marvel Universe in the pages of the all-new Amazing X-Men #1.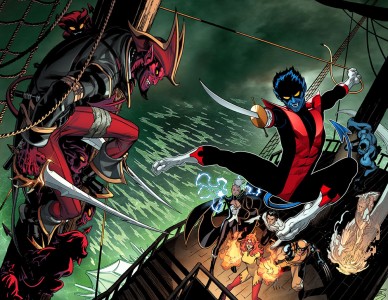 I'm a big time fan of pretty much all the X-Men characters from the era of Giant Size X-Men #1. That single book published in 1975 launched most of the characters that'd become the greatest and most popular X-Men of all time onto the main stage in Marvel's mutant universe.
One of the biggest of the lot was Kurt Wagner himself- Nightcrawler. The Fuzzy Elf was a mainstay in the x-books for years and years until the Second Coming crossover event in 2010. Nightcrawler sacrificed his own life to save Rogue in the mini-series and hasn't been seen in the x-books since- not that being dead has stopped comic book heroes from coming back before.
Fast forward to the present and we find Marvel Comics debuting a brand new X-men book with Amazing X-Men #1. Coming from the creative team of Jason Aaron and Ed McGuinness, AXM is starting things off in style with an all-star team of X-Men (Storm, Wolverine, Ice Man, Beast…) set to head into the heart of hell itself to rescue Nightcrawler. For Aaron, the book's writer, this is a tale that he's been waiting some time to tell.
"Nightcrawler has always been my favorite X-Man, so I've been planning this story for years now, going all the way back to Wolverine and the X-Men #1," explained Aaron. "I'm thrilled to be bringing Nightcrawler back to the forefront of the Marvel Universe. Of course it may not be much fun for the X-Men, once they realize what they'll have to go through to rescue their friend."
Looking down the line, Aaron's Amazing X-Men doesn't look to let up either with the comic being described as an 'event book' in every sense of the word.
"Get ready for the most epic book at Marvel, where every arc is an event!" said senior editor Nick Lowe. "X-Fans know Jason Aaron, but I can't wait until they see Nightcrawler fan #1 Ed McGuinness' incredible first X-Men book!"
There hasn't been an X-Men book like Amazing on the market for a long time. The feel of Marvel's latest mutant-powered volume is very similar (at least, it is to me) to the classic X-Men comics of the '90s and I can't wait to see what the publisher is cooking up for it.
Amazing X-Men #1 hits comic shops and digital platforms this coming November.