Another classic title will be getting a refresher in the form of a brand new Strider title in 2014.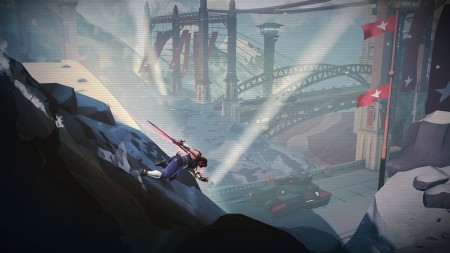 Breaking (and getting a little lost) in the madness that was SDCC last week was the news that that Strider is back in action with a brand new game from Capcom and developer Double Helix. And this is no re-skin as Strider will be an all-new game built from the ground up for current and next-gen consoles. It sounds as though the new Strider will pretty easily be the biggest and most ambitious Strider game ever made too, since it'll actually allow players to explore Kazakh City.
The year is Meio: 048, on an alternate dystopian future of Earth. The whole planet suffers under the oppressive, iron-fisted rule of the mysterious and omnipotent Grand Master Meio. An expert in sabotage and assassination, Hiryu is the youngest ever recruit to attain a Special A-Class in the hellish Strider training program, and is the only man capable of achieving the mission to eliminate Grand Master Meio.
Loaded up with "sprawling energy cables and pipework", Kazakh sounds like it'll feel just like home for fans of the classic side-scrolling Strider. The futuristic Russian architecture will have plenty for the ninja-like hero to grapple onto and clamber around on as he slices and dices baddies with his Cypher. In addition to the iconic energy sword of the Strider, you'll also be able to wield a sickle to assist climbing, the Kunai for special strikes and even call on allies for "extra muscle".
Expect to be battling bio-mechanical monstrosities across Kazakh City sometime in 2014 on the Xbox 360/One, PS3/4 and the PC.