One full year (plus) after his debut in the new Valiant Universe and Bloodshot is still a pretty big mystery. Just what is the unkillable, nanite powered, soldier? Issue #0 seeks to answer some of the questions that still exist about Project Rising Spirit's first and most 'successful' son.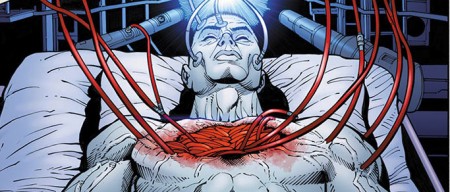 Coming from the mind of author Matt Kindt and the pencils of artist ChrisCross, Bloodshot #0 holds a vault worth of secrets about the Bloodshot program and Project Rising Spirit. Coming off of Harbinger Wars, the issue also marks the perfect jumping on point for readers late to the table.
From the darkest days of World War II and Korea, and through the hell of Vietnam and Afghanistan, Bloodshot's origin leaves a bloody trail of discarded lives and forgotten families. But which memories are real? Which families? Which children? Is Bloodshot many men…or no man at all? Is he simply a soulless killing machine or something more? Who is responsible? And why have they engineered the most dangerous weapon ever conceived by man?
Following Bloodshot #0 will be the fourteenth issue of the monthly book. This also marks a big event in 'shots life as it sees the lone wolf leading the former Harbinger Hunters called H.A.R.D. Corps, who made their first appearance in the HW event.
Honestly, both issues are probably good beginning points for readers who haven't been following what's become one of the hardest hitting action comics on the market today. I'd still go with issue 0 if I had the choice, but you really can't go wrong with either one if you have to choose.
Bloodshot #0 hits stands on August 21st from Valiant Comics. In the meantime, enjoy the special preview taste of what's to come: