You'll soon be able to get imagery from your favorite military shooter on just about everything- from gamepads to iPhone cases.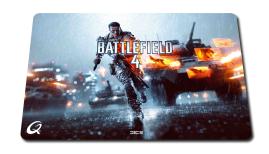 Battlefield is certainly changing quite a bit focus-wise. The popular shooter is centering on a more personal story with a deeper narrative this time around. Developer DICE and EA promise that the latest sequel in the series will actually give players an honest to goodness connection with their characters in a franchise that's usually known for anything but.
When the game launches this Holiday season, there'll be a barracks full of goodies for you to pick up right along side of it thanks to EA and their licensing partners. The publishing giant has forged alliances with the likes of Razer and Titan Books to deliver some premium B4 content to keep gamers in the world of Battlefield even after they've turned off the game. Though with the game running at a promised 60fps on the X1, PS4 and PC, that might not be too quick of a happening.
Regardless, here's what you can expect to see this Fall dropping in on retail shelves right alongside Battlefield 4:
Orion Publishing Group Battlefield 4 novel written by Peter Grimsdale
Titan Books Battlefield 4 art book in Standard and Limited Editions
Razer performance PC gaming peripherals and accessories, including mice, keyboards, headsets, messengers bags, and iPhone® cases
PDP performance Xbox 360 and PS3 controllers
Qpad premium PC mouse mats
Jinx clothing apparel and accessories including t-shirts, hoodies, hats, key chains and dog tags
Prima Games Standard and Collection Edition strategy guides
Cook & Becker Battlefield 4 artwork
Walls360 Battlefield 4 wall graphics
BigBen Interactive mobile device and tablet cases
Battlefield 4 will be available for the Xbox 360, PS3 and PC this October the 29th with Xbox One and PS4 editions following soon after.