A special set of The Walking Dead Minimates are all set to invade the SDCC next month in the form of an exclusive four-pack from DST.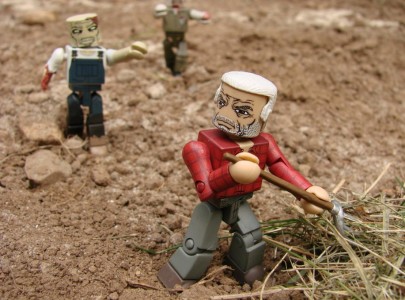 If you remember, DST offered a two-pack of TWD figures last year- and it sold out faster than you can say braaaaaaaains. This time around, the company is upping the ante and offering a four pack loaded with two of the most popular characters in The Walking Dead and a pair of the formerly living for them to fight.
The title of the pack is 'Hershel's Farm' and you can probably guess who's first on the roster for inclusion. Hershel isn't alone though because former cop Rick is right there with him, and he'll need the help as his own recently zombified son Shawn and the 'barn zombie' are nipping at their heels.
As usual, there'll be a bunch of accessories (including a blanket and a pitchfork) included in the set as well as some interchangeable parts. And also as usual (as goes SDCC exclusives anyway) this set will be of the extremely limited variety wit only 3000 being made. The sets will be available at the show home of Diamond Select Toys, booth #2607. You'll find 'em there all show long or until they sell out.