The publisher will release one special cover per month done by one of the original creators of Valiant's universe.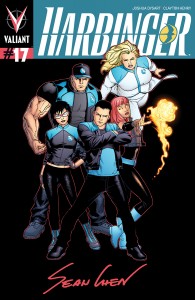 "I began my career in comics at the original Valiant and all of us who were there have stayed very close over the years," Valiant Publisher Fred Pierce told MTV Geek. "Now, with the new publishing line well underway, it's an immense pleasure to finally be reuniting with the talents who forged the foundation and gave the original Valiant Universe such a special and well-deserved mystique."
Pierce is, of course, talking about the first go for the Valiant U way back in the early '90s. Since then the line saw itself sold to Acclaim (yes, that Acclaim) and then dissolve before being reborn into what it is today. That being one of the freshest voices in the comic book world.
The Signature Series program is all about heritage though, and the amazing work done by some of the industry's luminaries in the 1990's. The first issuance of the Series will be in October and will premier with Harbinger #17. The book will sport the work of Sean Chen on the cover who's work at Valiant started before he was the veteran artist he is now and included pencils on X-O Manowar, Harbinger, Bloodshot, and Rai and the Future Force.
Each month after that there'll be one variant cover by other Valiant alumni including Bob Hall, Mark Moretti, Kevin VanHook and Sal Velutto. The artists will not be drawing their versions of Valiant's roster though, instead they'll be penciling the current incarnations of these heroes and villains- just with their own artistic interpretations.
A fan of all things Valiant long before he took over the company, current CEO & Chief Creative Officer Dinesh Shamdasani had this to say about the deal:
"Valiant is incredibly fortunate to have worked with a long list of incredible talents in its 25 year history, and their work is something that we continue to celebrate to this day. As both fans and creators, we've been anxiously awaiting the moment when some of Valiant's original greats would return to bring their vision to the modern day Valiant Universe, and, with the Valiant Signature Series, that moment has finally arrived. Sean Chen, Bob Hall, Mark Moretti, Kevin VanHook, Sal Velluto – these are the guys who helped build the house we live in, and fans can look forward to seeing even more storied talents from the original Valiant era return over the next year."
I was a fan of Valiant back in the day as well, so I know from where Shamdasani speaks. It's just so cool to see something like this from a fan's perspective. I can't think of any publisher in operation today that'd do something like this either. Actually, I can't think of any publisher today (particularly not a smaller one) that does half of the awesome stuff that Valiant seems to do on a monthly basis.
The line's a little over a year old and they've already had two giant events with Harbinger Wars and Planet Death and amazing stuff like the Harbinger Wars free iOS game and variant '8-bit' style comic covers. As a reporter and someone who watches the industry fairly closely, I really enjoy seeing company's do stuff like that – as a fan who just likes comics, I love it.
Keep it up guys – The Signature Series launches in October with Harbinger #17