Dark Horse Deluxe is getting spooky with a very cool looking line of collectibles based on the hit action/adventure NBC TV show- Grimm.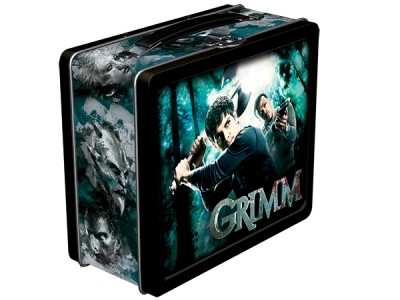 If you watch the show, then you're more likely than not pretty excited to hear that there's some merchandise on the way from Dark Horse Deluxe. I don't think I've seen anything out there at present for the two season old program and, as a fan of the Grimm universe myself, I'm definitely excited.
Grimm is based on fairy tales and legends and follows the adventures of a Portland cop who's descended from a line of monster hunters called Grimms. The main bulk of the show centers on crimes involving the beasties who live in and around the city of Portland and disguise themselves as 'normal' humans. There's also plenty of action, mystical elements and a healthy dose of conspiracy- it's cool stuff that's been just dying for come collectibles.
Thankfully, Dark Horse hears and obliges.
"As Portland residents, we feel a special kinship with a series filmed in our hometown," Dark Horse Product Development VP David Scroggy observed, "although we would have been drawn to Grimm if it were filmed in North Dakota. The production team has been most accommodating, inviting us to visit the sets, examine the props, and meet with the key design and VFX staffers to help inform our line. This kind of cooperation is rare, and it has ensured a great accuracy down to the smallest details."

As for what'll be on shelves when the first few items start to hit, it's going to be a pretty wade ranging line with lunch boxes, pins, mugs and even some stuff that's still under wraps.
Nick is bequeathed the key as his dying Aunt Marie introduces him to his destiny as a Grimm, warning him to guard it with his life. The key is revealed to have a map carved on the outside, which is etched into the replica pin's surface. Two small loops on the key allow the wearer to easily convert it from a pin to a hanging pendant. The mysterious, ancient coin of Zakynthos has a long history of bringing a bad end to its possessors, although the Grimms seem strangely immune. While its purpose remains a mystery, various dark forces are seeking it and will kill to attain ownership of it. The Dark Horse coin pin replica is given an antique finish over zinc alloy, re-creating the patina of antiquity.
Both of those items have huge significance in the show, some of which Grimm has just started to touch on and will be further exploring in the upcoming season 3 this Fall. You can also expect to see the lunchbox that you see above arriving (which is litho-printed and embossed by the way) along with the two pins, as well as a sixteen-ounce pint glass, a deluxe coffee mug, and an embroidered skull-design patch.
Dark Horse Deluxe also tells us that busts, journals, playing cards and "some very cool lenticular items" are all planned too. You can expect all this cool stuff to start popping up at retail stores this September the 25th- just in time for Halloween season.