The publisher will showcase America's Army in an exclusive digital distribution agreement.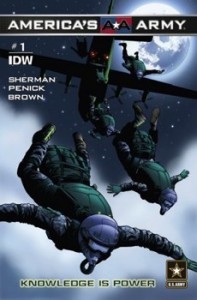 Not something that you normally expect to hear about is a connection between the worlds of comics and the US military, and yet here we are talking about a brand new agreement that sees publisher IDW teaming with the US Army to publish comics based on the armed forces computer game of the same name.
America's Army Comics will now, as a result of the deal, be appearing on digital distribution services for every major platform out there.
AMERICA's Army Comics tell the story of U.S. Soldiers deployed to Czervenia, a tiny foreign nation in the middle of a chaotic conflict. From a seemingly insignificant nation of Czervenia, President-General Adzic and his army set upon a campaign of annihilation against the neighboring Republic of the Ostregals, setting in motion a mysterious plan that could change the course of world power forever. America's Army must create new experimental combat teams, forged together in secret Proving Grounds, and uncover the General's insidious plot before time runs out.
The books will be available through either the comiXology or the IDW apps and can be read on iOS, Android, or Windows 8 devices as well as the nook, Kobo and Kindle. You can even access America's Army Comics on the web, so if you're craving some hard-hitting military action, well- this is your day soldier.
Available right now are four books in the series including America's Army Issue 1: Knowledge is Power, America's Army Issue 2: Rise to the Challenge, America's Army Issue 3: Under a Watchful Eye and America's Army Issue 4: Escalation. You can expect to see more new issues that tell America's Army tales right along with the game to start appearing over the next few months.
Also very cool is that both America's Army's writer and artist M. Zachary Sherman and Scott Brooks will be appearing (and signing) at the IDW booth at the SDCC in their home town of San Diego next month- so don't miss out!