It's been a while since Trek fans could find their favorite characters on the pegs at TRU (or anywhere else for that matter), but the universe that Gene built is back at the mass market in style thanks to toy maker DST.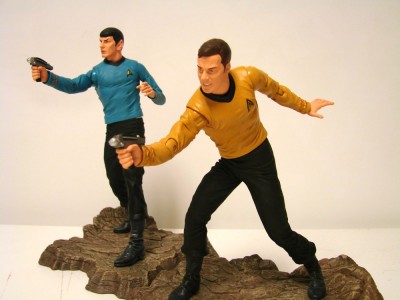 Starting with the classic twosome of Captain James Kirk and his First Officer Commander Spock, Diamond Select Toys has relaunched a Trek line that's set to encompass the many different series' that have brandished the name Star Trek. These figures will be hitting specialty and comic shops as well as TRU, but the versions that are exclusive to the toy retailing giant are a bit different than the rest.
Both Kirk and Spock have ball-jointed necks and shoulders, hinged elbows and articulation at the at mid-bicep, wrist, waist and mid-calf. Along with that, the pieces that come with each (hands, heads, legs) are interchangeable for even more display options for the Enterprise's original command crew.
Where the difference comes in between the Toys R Us versions and the ones that you'll find at your local comic shop is that these versions of the figures don't come with the secondary characters of Khan and the Horta- but instead come packed in with interlocking display stands.
The new 'terrain bases' look like the surface of an alien world and allow for the posing of Kirk and Spock together, ready for action as seen in loads of classic Trek episodes. If you're going to be displaying these two characters together (say, on a desk or something), these are probably the versions to get.
And fans can start beaming over to Toys R Us stores now, as both Captain Kirk and Spock are available now.