Deep Silver and Volition have officially taken the wraps off of the 'Super Dangerous Wub Wub' edition of Saint's Row IV.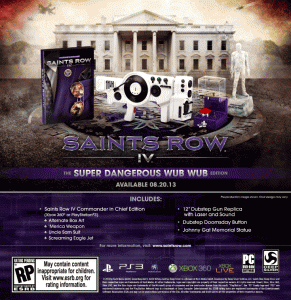 And they mean 'wub wub' as is dub step. Yes, it's that super dangerous.
The new edition of the game includes some very cool bonus items and collectables including a replica Dub Step gun (with lights and sounds!) from the game and an "awe inspiring" statue of Johnny Gat- the greatest Saint. And as if that wasn't enough for your Saint's lovin' self, you'll also get a pocket sized doomsday button and everything included in the 'Commander-in-Chief' preorder pack.
That's actually a really great amount of content for a special edition and it's not as much cash as you might expect, as the Super Dangerous Wub Wub edition of Saint's Row IV clocks in at $99 USD. It's available now for preorder, but only as long as the supply lasts- so if you want one, you know the drill.
Saint's Row IV launches at retail like a Patriot Missile on August 20th in the US and on the 23rd in the rest of the world.
Included in the Super Dangerous Wub Wub edition ($99.99 USD) is a 12 inch Dub Step gun replica capable of rendering your enemies absolutely speechless with the power of wub. The ultra-high quality weapon replica packs a party with a bitchin' design, sweet tunes directly from the in-game Dubstep Gun and a laser sight. Make no mistake, it's time to get down.

Additionally the Super Dangerous Wub Wub Edition comes with an awe-inspiring 8 inch Johnny Gat Memorial Statue for all Saints to be able to pay tribute to the greatest Saint while kicking ass in the name of Liberty. Future generations will gaze upon Johnny's grandeur while learning the history of his glorious murdering sprees with the Third Street Saints.

And because no president is ever without "the button", the Super Dangerous Wub Wub edition comes with a pocket-sized Dubstep Doomsday Button so fans can drop bombs on the go.

Fans purchasing the collector's edition will also receive all in-game items from the Commander in Chief pre-order bonus, which include a Screaming Eagle VTOL that fires rockets out of its talons and can invoke the "Sonic Scream" attack, a limited-edition American-iconic 'Uncle Sam' uniform decked out in the American flag colors and a stimulus package of epic proportions – the 'Merica gun – everyone's American dream weapon.