Dark Horse Comics' digital graphic novels are available on more than a few different reader platforms already, now you can add one more to that list.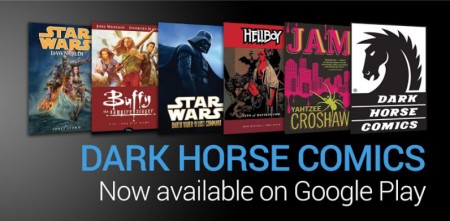 Kindle, nook, Kobo- and now Google Play; Dark Horse Comics continues its march towards graphic novel dominance with books available on almost every major e-reading service this side of an iPad.
"We are very excited to be working with Google to bring Dark Horse graphic novels to the Play store," said Dark Horse's director of digital publishing, Mark Bernardi. "It is an important addition to the growing list of platforms where our digital books can be enjoyed."
Starting right this very second (right now!) Dark Horse's massive collection of graphic novels are available for purchase and download from Google Play. Included in the initial offerings are books showcasing Buffy the Vampire Slayer, Star Wars, Mass Effect, Serenity, and tons more.
The publisher promises that more books will be added each month, so if you need to catch up before more new stuff starts hitting- now's the time. Catch the download right here on Google Play.