The digital comic reading platform now plays host to superstar creator Mark Millar's complete works from ICON comics.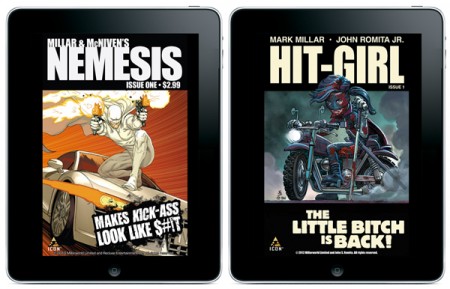 I think it's pretty much safe to say that everybody knows Kick-Ass and, of course, its aptly named sequel (and forthcoming second movie) Kick-Ass 2. There's actually more original stuff out there from creator Millar though- I know, it's shocking.
Hit-Girl, which stars the fan favorite Kick-Ass character of the same name, and the acclaimed hard-hitting Nemesis are both available right now for all your digital comic reading needs. And that's not all either as Millar's other stuff will also be arriving on the platform before too long.
"I couldn't be happier about this. The comiXology guys are great and I love the idea of the Millarworld titles reaching people who want to try my books after Kick-Ass 2, but don't live near a comic-book store." said Millarworld founder Mark Millar. "From this moment on, ALL my books will be available in digital 12 weeks after they're released in print and we won't have any delays again. Kick-Ass 2, Jupiter's Legacy, The Secret Service, Supercrooks, Superior and everything else will be coming to digital very soon and we've now got a system in order to make sure it's never more than 3 months after the print editions. It's Millarworld's gift to humanity in these troubled times!"
That's really the big bonus that you get from digital distribution. Even as someone who loves the feel of a real world comic, I have to admit that if you don't live near a comic shop or your store doesn't stock what you want, it's fantastic that it's all readily available digitally.
And that's not to mention how easy back issues have become to find. I remember searching through longbox after longbox in my LCS and at comic con's in the city as a kid looking for issues, now they're right there. No muss, no fuss.
Right now Millar and McNiven's Nemesis issues 1-4 are available along with Millar's Hit-Girl numbers 1-5. Look for those other series' to arrive relatively soon with regular content updated shortly after release going down the line.