The Tomb Raider returns to comic books starting with a special Best Buy exclusive edition prequel book. Ongoing series? Yep, it's on the way.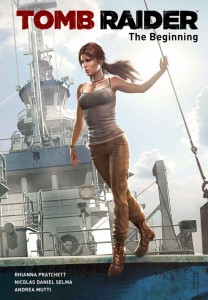 Developer Crystal Dynamics together with publisher Square Enix and Dark Horse are teaming to bring the adventurer to readers and fans with an all new series titled Tomb Raider: The Beginning.
The book, which tells the story of the ill-fated ship The Endurance, will be a part of the launch of the new Tomb Raider that reboots the Croft legacy and showcases a less superhero and more human version of the famous character. The comic will take place before the events of the game and will arrive courtesy of lead writer and master of all things Tomb Raider, Rhianna Pratchett.
A 48-page, six-part hardcover omnibus, "TOMB RAIDER: The Beginning" follows the story of how the crew came together for The Endurance's fateful mission to discover the lost Japanese kingdom of Yamatai. Originally intended to feature as the latest instalment of Dr. James Whitman's successful archaeology show, Whitman's World, the show-biz archaeologist gets more than he bargained for when he enlists the help of Captain Conrad Roth. As Roth's unique and eccentric crew gradually come together and share their stories and secrets, the expedition faces unexpected threats before it's even begun.
Fans will be able to grab Tomb Raider: The Beginning for free at Best Buy if they pre-order the game before its release on March 5th. Yes, you read that right. Free. And as far as pre-order bonuses go, you could do a lot worse than a 48 page hardcover comic.
Then directly following the game's launch, Dark Horse Comics will be making further announcements about a new series starring the hero. There isn't any firm information on just what this might be as of yet, or if it'll even be an ongoing series of just a set of limited runs.
Whatever it's to be though, we'll have to wait until after March 5th to find out.