Marvel announces a book almost as big as Wolverine himself with a 700+ page monster that collects many of the savage characters key moments.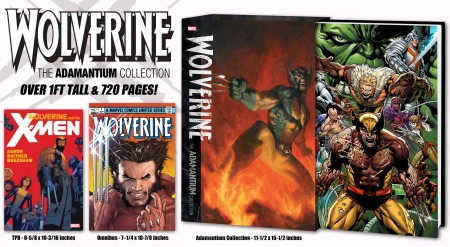 At 720 pages, over a foot in height, and tipping the scales at 16 pounds (!)- Wolverine: The Adamantium Collection is a book that might actually be bigger than your coffee table. The massive book follows one of the most popular comic characters of all time (and arguably the most popular X-Man) as he transforms from the weakling James Howlett into the savage Wolverine.
" Wolverine is the Clint Eastwood of comic book characters, an enigmatic loner with a sin-riddled past that he's desperate to atone for, even if he won't outright admit it," explained Axel Alonso, Editor In Chief, Marvel Entertainment. "With such a rich history, fans of the character are in for a real treat, because even if they've read all the stories before, with the 'Adamantium Collection' – they've never read them like this!"
The Adamantium Collection includes so many of the signature stories from Logan's history that  Marvel is actually not only talking about it as a 'graphic novel' or collected edition, but also as an ultimate guide to the hero.
All in all, the book will contain:
· Wolverine: Origin by Paul Jenkins and Adam Kubert

· Wolverine: Weapon X by Barry Windsor Smith

· Wolverine by Chris Claremont and Frank Miller

· Wolverine: Not Dead Yet by Warren Ellis and Leinil Yu

· Wolverine & The X-Men by Jason Aaron and Chris Bachalo

· And unforgettable single issue stories by Larry Hama, Mark Millar, Dave Cockrum, Jim Lee and Kaare Andrews!
And of course, it'll also include the now standard Marvel AR features and digital copies of the books bound together beneath its slipcase.
Wolverine: The Adamantium Collection goes on sale June 5th- just uh, good luck finding a bookshelf for it to sit on…