I just adore a good match three game.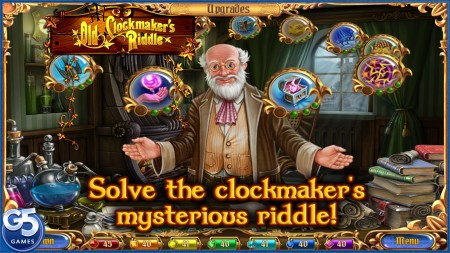 There is just nothing like a match three game. Everyone from seasoned gamers to grannies who'd never played a game in their lives loved Bejeweled, and with good reason. It is mindbogglingly simple to pick up, and engaging enough that it is difficult to put it down. Since then, a score of match three games have hit every type of gaming platform; some of them good, some of them overwhelmingly bad. With Old Clockmaker's Riddle, G5 Games hopes to take match three to a new level of addiction. But can it bring anything new to the table, or has match three already been overdone?
Old Clockmaker's Riddle is a match three game with a purpose. You have intercepted a letter that tells of a town in chaos. A clock in a tower has suddenly begun to spin backwards, and with each spin of the hands, the town is destroyed. You rush to aid the town, and find that you must rebuild, one building at a time, before you reach the clock tower for a final showdown that will (hopefully) restore it to its former glory.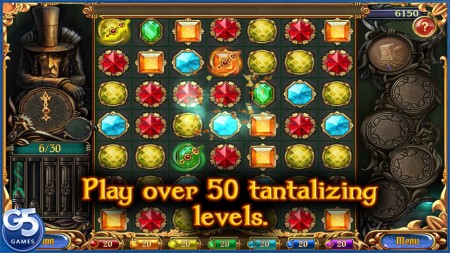 To restore a destroyed building, you must complete complete various match three games by collecting a certain number of clock hands. These arebplaced in some of the gems on the match three boards. Like most games of this kind, the board is filled with a variety of gems of different colors. You must match up at least three in a row to score, by swapping adjacent gems. Matched gems disappear, causing the ones above them to fall, either setting up more matches for you, or screwing up the ones that were already there. In the case of Old Clockmaker's Riddle, you'll collect the clock hands on a gem when you make a match with. Of course, there are only a few hands on the board at a time, so you'll have to make a lot of other matches to cause more to appear.
All that is mostly just like any other game of this type, but Old Clockmaker's Riddle adds in some other quirks to make it a different (if not quite unique) experience. Making matches earns you gems of various colors. You can use these to purchase and upgrade various tools, like a hammer to smash stuck or frozen gems, or one that adds more clock hands to the board. Of course, you can finish the game without purchasing any of these at all, but it certainly makes things more interesting. In addition to the standard match three boards, when you complete a building you are offered a bonus level. This is a puzzle, where you must eliminate all the clock hand gems on a board within a certain number of moves. These are completely skippable if that isn't your thing, and they also offer a very forgivable hint feature for those times when you are completely stuck.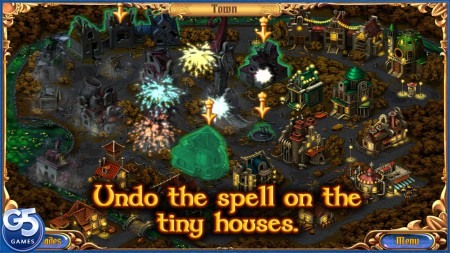 As you advance in the game, there are more and more types of gems added to the board, which definitely helps keep things from getting monotonous. There are bombs gems and lightning gems, which completely make the board go nuts. And there are stuck gems which cannot be moved without completing a match in their current positions. Frozen gems will fall down the board, but cannot be unfrozen without making a match. These types of things aren't completely new to the match three genre, but they are done well in Old Clockmaker's Riddle, pulling everything together for an enjoyable game.