Come fly with Sam Fisher.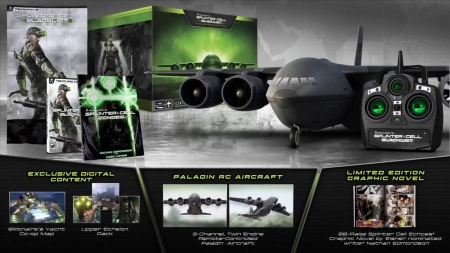 If you're the sort of person that likes unusual and crazy things in your Collector's Editions, then Ubisoft has a treat for you, as the collector's edition of Splinter Cell Blacklist will come with a remote controlled plane.
For the princely sum of $169.99, the "Paladin Collector's Edition" comes with a copy of the game, the Splinter Cell Echoes graphic novel, a poster, "Billionaire's Yacht" co-op map, the Upper Echelon Pack containing the "Dead Coast" co-op map, the Gold Sonar Goggles and Upper Echelon Suit items to use in game, and a radio-controlled version of the Paladin airplane that Sam Fisher and his team use as their base of operations in the game.  The plane is described as a "custom three-channel, dual-motor plane modeled after the in-game mobile headquarters."
No news yet as to whether this will be in North America only.  Splinter Cell Blacklist is out on 20th August in America and 23rd August in Europe for PS3, Xbox 360 and PC.
Source: IGN