Collectable maker Gentle Giant Ltd. has announced a duo of new Star Wars offerings on the way for later this year.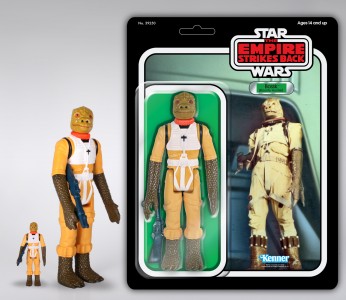 Arriving in quarter 3 of this year, the bounty hunter Bossk and a bust of fan favorite villain Darth Malgus.
Bossk kicks off the company's collection of Empire Strikes Back bounty hunters. Pretty much all of the assorted roughnecks that stood before Darth Vader on the bridge of the Executor became fan favorites in spite of the fact that they only had a few scant moments of screen time.

Celebrating those bounty hunters is Gentle Giant's Kenner throwback Bossk. The reptilian tracker is a perfect 12″ replica (packaging and all) of the original Kenner figure that hit the pegs in the early 80's. The fact that GG calls Bossk the "first of the infamous ESB Bounty Hunters" gives me quite a bit of hope too that we might just see the rest of the crew in this awesome format before long. Keep 'em coming guys.
And joining Bossk is the malevolent Darth Malgus.
The dark lord of the Sith from the days of the Old Republic is featured in the form of a bust that looks to be really sharply detailed, a fact that should make fans of BioWare's Old Republic MMO very happy.
Fans can expect to see Bossk and Darth Malgus become available sometime in the third quarter of this year. And stay tuned in the weeks leading up to the San Diego Comic Con because Gentle Giant promises a "flood of new stuff" for the show.