Uncanny X-Men #5 starts off a new era for the team with an eye towards new and "lapsed" readers.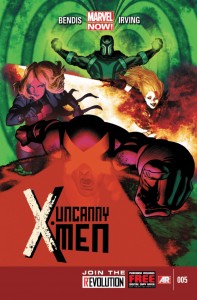 Brian Michael Bendis and artist Frazer Irving bring the fugitive leader of the X-Men full circle as he assembles a new team in a very familiar (to long time fans) place…
Deep in the caverns of the old Weapon X facility, Cyclops is training the next great generation of Mutantkind in the Charles Xavier School for Mutants! With new mutants popping up all across the Marvel Universe, Cyclops and his team must race to recruit. But will there be anyone to turn him down?
Marvel promises a whole new take on the X-Men that, according to Editor-in-Chief Axel Alonso, will have "have major ramifications on the Marvel Universe". The X-books have been a pretty tumultuous place in recent years with events ranging from 'big' to 'massive' ripping apart the predominant mutant super-team in the Marvel Universe more than once.
Change is a constant for the X-Men is seems. It's always kind of been that way if you look back at the characters' history, though it seems like readers of the comic probably shouldn't get overly comfortable in any way any time soon. It is a promising thing to read that Marvel wants this latest incarnation to be a jumping on point for new and (maybe more importantly) lapsed readers. So perhaps there might be some form of normalcy coming to the book?
As a big fan of the Claremont/Lee era, I'd like nothing more than to see an assemblage of characters that might just stick around for a while in a book bearing the name 'Uncanny X-Men'.
Uncanny X-Men #5 hits stands this April with the usual AR features and free digital copy in tow. Also, I'd be remiss if I didn't point out that that awesome cover by Frazer. The heavy nod to the classic All New, All Different 'Giant-Sized X-Men #1' is a very cool one.