Expendable as in The Expendables of course. No Minimates on tap this time though, we're talking full-on 7″ figures.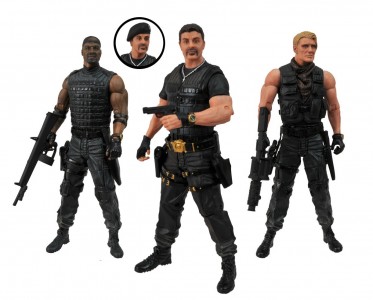 The all-star action franchise brought to life by Sly Stallone and company hasn't had actual figures till now other than the diminutive Minimates and Diamond is starting things off right. These bad boys are pretty slick looking figs- that Lundgren likeness looks pretty spot on.

Wave one of the Expendables hits this week at comic and specialty stores, as well as other retailers. Comic and specialty shops will be seeing an exclusive though in the form of (Sly's character) Barney Ross with his signature beret fixed firmly on his noggin.
Other than Barney, series one includes Gunner Jensen (Dolph Lundgren) and Hale Caesar (Terry Crews). All of them look pretty spot on and reportedly come "heavily armed"- but you wouldn't have expected any less from these guys would you?
Personally, I love these movies. Throwback films to a time when nobody cared about a detailed story, audiences just wanted to see the good guys kick some tail. I'm crossing my fingers that this becomes a continued line from DST. (I need a Van Damme!)
The Expendables will cost you $17.99 each.

The Walking Dead also arrive in stores this week from Diamond Select in the form of a silicone tray. Yes, you read that right- but you can imagine the look and use for a molded zombie tray right?
How do chocolate, or jello zombie parts sound? Legs, arms… heads. Tasty stuff, and it can be yours for use in your diabolical kitchen of horrors for only $19.99.
A pretty strong week form the toy and collectible company overall. The Expendables line could be a big deal for collectors and fans of classic '80s action movies and The Walking Dead tray… well, that's just plain neat.
Get 'em all starting today at your local shop or online retailer.