Digital comic e-reading platform comiXology now allows you to start reading your comics on your iPhone and finish up on your iPad (or wherever).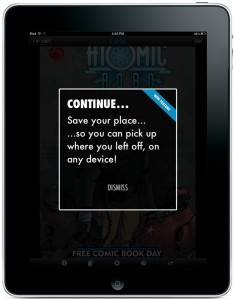 This strikes me as a feature that probably should have been around for a while already, but now that I know comiXology hadn't offered it till now- I'm glad it's here. The reading platform (which is available for  iPhone, iPad, Android, Kindle Fire, Windows 8 and on the Web) now allows for continuous funnybook reading -of the same comic or graphic novel- across every device it supports through 'Continue'.
"This feature is another upgrade in a long line of innovations comiXology has brought to digital comics," says comiXology co-founder and CEO David Steinberger. "Our vision is to turn everyone, everywhere into a comics fan, and by creating the best user experience possible with features like comiXology Continue we're doing just!"
And aside from Continue, there are a few other enhancements that have just hit the service in the social media department. The new toolset now allows for sharing, no matter what you're doing in the comiXology reader, via Facebook, Twitter, or email. Comic book reading has never been so social.