Star Wars: The Old Republic players will get to see the Rise of the Hutt Cartel first hand this Spring in the new expansion to the story driven MMO from Lucasarts and BioWare.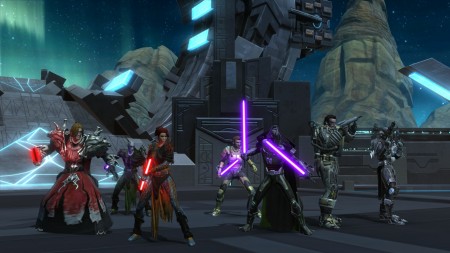 The first real digital expansion for the game brings the deadly, galaxy-spanning Hutt crime cartel to the world of The Old Republic. The pack will include a trip to the planet Makeb for your character where he/she/it will make new allies, grab some new tech, and face off against the vile Hutts- all with a revised level cap that now tops off at level 55.
"We know our fans want to keep experiencing the classic Star Wars storylines they love, and that's what we're delivering with the Rise of the Hutt Cartel expansion," said Jeff Hickman, Executive Producer at BioWare Austin. "The planet Makeb is shaping up to be one of our most breathtakingly beautiful settings and the clash with the Hutt Cartel is epic and exciting. And this is just the tip of the iceberg. We have a lot more surprises in store for our fans next year!"
Look for the Star Wars The Old Republic Rise of the Hutts expansion pack to hit the game in Spring 2013. It's available now for pre-order on the game's official site (here) and will run you $9.99 USD if you're a paid subscriber. Free-to-Play Old Republicans can get in on the action as well, but at the price of $19.99.
And as a little bonus for pre-orderers, anyone who plunks down the credits cash for the game before January 7th (at 11:59PM CT// 5:59am GMT) will be in for a full five days of exclusive access to The Rise of the Hutts just before the game launches.