The free to play Hawken has just entered open beta and to celebrate comiXology is offering 2,000 Hawken credits free with anydownload of the prequel digital comic.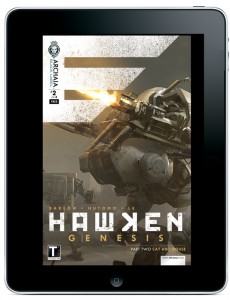 So with the game being free and the credits being free, it probably shouldn't come as much of a surprise to learn that the comic book is free as well.
This exclusive preview is available across comiXology's entire digital comics platform including theiPhone, iPad, Android, Kindle Fire, and the Web. Any time someone downloads the free HAWKEN: GENESIS second preview on comiXology starting 12.12.12 and until 12 a.m. PT on Jan. 1, 2013, they will receive 2,000 HAWKEN Credits that they can use to buy fun items, such as upgrades and accessories in HAWKEN. Fans who downloaded the first installment last month received guaranteed access to the game's third closed beta event. (Please note only those who download the second preview are eligible to receive the Credits.)
Issue 2 of the Hawken: Genesis prequel is titled 'Cat and Mouse' and can be accessed on the comiXology site by clicking right here. Hawken: Genesis (the graphic novel) will be available in March of 2013 and Hawken (the game) is now (as of 12/12) in open beta- so go register to play, it's free.