The formerly episodic season 1 of Telltale Games' excellent reinvention of the 'adventure game' The Walking Dead finally has a firm release date for its retail boxed edition.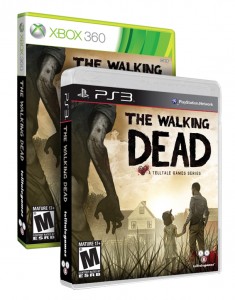 Previously available only in downloadable form, The Walking Dead was delivered as  five part series that recently culminated with the epic fifth episode- No Time Left. The game has already garnered just about as much praise as anything else released this year and is a very serious contender for game of the year honors.
The Xbox and Ps3 retail editions of The Walking Dead will come in a pair of flavors, both standard and in a collector's edition. A vanilla copy of the game on disc will cost you $29.99 USD and is well worth it. The collector's edition will run a bit more than that at $69.99, but also nets you a copy of the 1,000 page The Walking Dead Compendium volume 1 which collects the first 48 issues of the comic book that the game and TV show are based on.
Retailer Best Buy will also be stocking a special variant cover for the game as well as a poster insert in the packaging. It will also be the only place that PC players will be able to get their hands on a disc-based copy.
Mark your calendars- The Walking Dead shuffles to retail on December 11th in the US. The rest of the world will have to wait a bit longer as the international release has yet to be revealed.