The final season of STARZ' acclaimed Spartacus series brings the War of the Damned to the gates of the Empire in early 2013.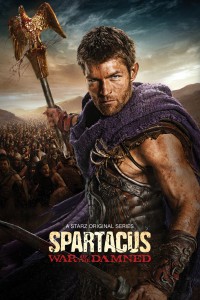 Fans won't have to wait long past the new year to see how STARZ' swords and sandals epic will finish it's run. The cable channel has scheduled the premier of Spartacus: War of the Damned for January 25th, 2013 at 9pm eastern and pacific.
The season opens and Gaius Claudius Glaber is dead. Many months have passed since his defeat, and the rebel army, led by Spartacus and his generals Crixus, Gannicus and Agron continue to amass victories over Rome. With the rebel numbers swelling to thousands of freed slaves, and Spartacus more determined than ever to bring down the entire Roman Republic, the horde become a force that challenges even the mighty armies of Rome. Together, the rebels engage in one bloody skirmish after another and prepare for the inevitable: a full out war.
War of the Damned stars Liam McIntyre as gladiator turned rebel general Spartacus and a host of others including Todd Lasance as one of the most famous figures in history- Julius Caesar.