A brand new 'Through the Ages' Minimates box set has just been announced by DST- Mr.Fixit fans, get out your wallets.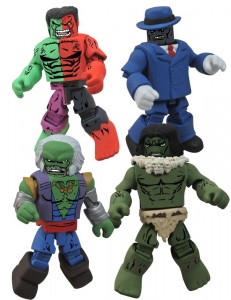 One of my all time favorite incarnations of Marvel's Incredible Hulk was when his personality fractured even more that it was to reveal a tough talking, suit wearing, smaller (not to mention gray) version of his usual rage induced jolly green giant persona.
Calling himself Mr.Fixit, Hulk went to work and got himself into all manner of trouble. He's one of four Hulk themed Minimates to be included in the new Through the Ages set just announced from Diamond Select Toys.
– Joe Fixit, his grey-skinned enforcer persona from his time in Las Vegas; his Minimate will have a removable jacket, hat and tommy gun;

– Maestro, his evil future self who has defeated all of Earth's heroes; he will include a removable cape, crown and a trophy display;

– Barbarian Hulk, from his time living in Subterranea among the Moloids;

– Composite Hulk, when he was briefly merged with his red counterpart.
Look for Joey and his three pals (four if you're counting Compy Hulk as a duo) to smash comic and specialty stores in Spring of next year. If you want to reserve a set, you'll be able to do so at your local shop starting now.