Diamond Select has November off to a horror-laden start with offerings from The Walking Dead and the eternally cool Universal Monsters brand. Who'd think banks could be so cool?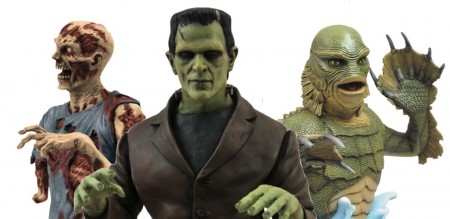 First of all, this classic monster stuff is just awesome. And the black & white Legacy Box Set is just fantastic for fans of the classics as they were meant to be seen.

Universal Monsters Frankenstein Bust Bank
Spinning out of DST's successful line of Star Wars bust banks comes the all-new Universal Monsters series! The most famous monster of all, Frankenstein, will kick off this new line of 8-inch vinyl banks, which features highly detailed sculpts and paint. From the front it just looks like a high-quality bust, but turn it around and there's a slot to keep your change in! Nobody will want to raid your savings when they're safe inside this resurrected giant! Sculpted by Gabriel Marquez!

Universal Monsters Creature from the Black Lagoon Bust Bank
The second release in DST's new line of vinyl banks was a no-brainer. After all, if you were going to make an 8-inch bust featuring highly detailed sculpts and paint, what monster would you want to see done right? The Creature from the Black Lagoon, of course! The scaly mer-monster has never looked better than in this detailed bank, and if you turn him around you can insert your loose change in a slot behind his gills. He's the next evolution in banks! Sculpted by Bill Mancuso!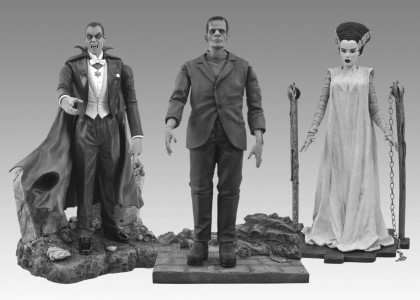 Universal Monsters Black-and-White Legacy Series 2 Box Set
Between 1923 and 1958, Universal Studios released over 60 different monster movies, all in black-and-white, that gave the film world some of its most iconic characters. In honor of that legacy, this deluxe collectors' box set presents three of the most famous Universal Monsters — Dracula, Frankenstein and the Bride of Frankenstein — in their original-black and-white appearances! These exclusive 7-inch scale figures will only be available as part of this set, and come in a display-quality window box. Designed and sculpted by Rudy Garcia, Gabriel Marquez and Jean St. Jean!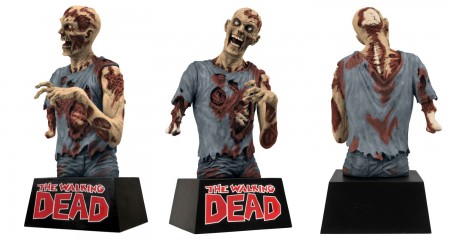 Unlike the characters in Robert Kirkman's ongoing comic series The Walking Dead, our future isn't threatened by a zombie apocalypse. So why don't you start saving for it? Put aside money for your zombie-proof dream house in this 8-inch vinyl bank depicting a lurker (or is it a roamer?) from the Walking Dead comic book, via the change slot in his back. Perched atop the book's now-famous logo, this gruesome character will keep any weak-stomached burglars from plundering your nest egg. Sculpted by Eli Livingston!
Yep, Halloween rolls on for fans of monsters and the living dead. All this cool stuff should be on shelves now at your local comic and/or specialty store.