Music and dancing? Yep, Nintendo's SiNG PARTY will probably move about a billion copies.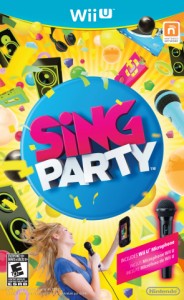 Nintendo released a few more details today about it's forthcoming singing and dancing Wii U launch game, SiNG PARTY. The title, which will be available right alongside the console on November 18th, will ship with a bunch of different tunes on the disc with an eye towards creating a "party atmosphere".
Artists like Rihanna, Jackson 5, Lady Gaga, The Wanted, James Brown, The Village People and Selena Gomez & The Scene blend together to create a perfect party playlist for everyone young and old. Additional songs will be available starting in 2013.
SiNG PARTY will also include a bunch of different play modes including Party Mode where one player reads the lyrics off of the Wii pad's screen and the rest follow the main TV's prompts for the refrains and dance moves… uh-oh.
But even though the backup singers will have to flail about, don't think that the lead singer gets a free pass. The game will actually rate and evaluate vocal quality in real time as a song is performed in Sing Mode. Now that's a good time right there.
Team up or play solo in SiNG PARTY on November 18 for the Wii U. The game will cost you $59.99 USD for a boxed copy or $49.99 when downloaded from the eShop. Microphones will be sold separately for $24.99 a pop, which strike me as a little odd. On the plus side, the game is compatible with older Wii mics, so if you have 'em- dust 'em off.