Chris Claremont had one of the lengthiest and most influential runs in Marvel's X-books and the latest series of DST's Minimates pays big time homage to those glorious days.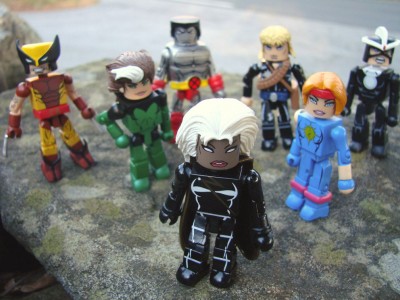 There is no other name in the pantheon of artists and writers that have taken the reigns of the multitude of X-books that strikes a cord as much as Chris Claremont. Tha man's a legend and penned some of the most iconic and fan favorite X-Men tales of all time. Pair his stories with the art of Jim Lee, and you've got some mutant nirvana right there as far as I'm concerned.
Series 47 of the little guys sees the release of Wolverine, Rogue, Colossus, Dazzler and Longshot (all in their classic duds), a Brood drone and a rare variant Wolverine (packed in with some drones) that shows him in his infected Brood state.
Complementing the set is Toys R Us Exclusive series 14. You won't find these anywhere other than the toy mega-store, and it'll be worth the trip if you're a completist as these two-packs have Havok and Storm.
Other than the X-Men's leader at the time and Cyclops' bro, the TRU sets also feature a very cool Ultimate Captain America and (the first ever figure of new Ultimate Spidey) Miles Morales pairing as well as Iron Man & Rhino and Vindicator & Box from Alpha Flight. Some nice additions to your min-collection and they're only available at Toys R Us.