Valiant Comics' Bloodshot starts up a brand new story arc (and jumping on point) with next month's issue #5. Check out a special preview of the book after the break.
The 'brutal heart' of the revitalized Valiant Universe, Bloodshot is penned by writer Duane Swierczynski with art by both Manuel Garcia & Arturo Lozzi. Issue five starts 'The Rise and Fall' storyline and promises to answer plenty of questions about Project Rising Spirit.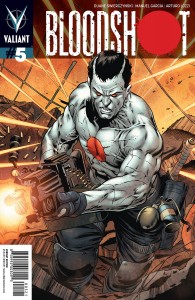 Bloodshot is finally free of the memories that have haunted him since his awakening – but now even greater mysteries remain. Who was he before he was transformed into a walking weapon? And just what purpose did he serve for Project Rising Spirit? Now, a rogue PRS scientist has told Bloodshot the location of the answers he needs – and they're buried deep within an off-the-grid, savagely fortified black site that will rain hellfire down upon anyone who dares trespass. And, once he's inside, he may just discover that he's not the only indestructible killing machine PRS ever dreamed into the world…
 Bloodshot #5 goes on sale on November 14th with the follow-up (from the same creative team) Bloodshot #6 hitting stands on December 12th. Bloodshot #7 (titled 'The Rise and Fall Interlude- Harbinger Hunter', which is interesting given that 'Harbinger' is another book in Valiant's universe) will follow the first two parts of the story on January 16th.
Enjoy the preview: