Sharkoon and CompuExpert is gracing North American PC gamers with a brand new lineup of shiny new mice and keyboards.
Touting the company as "affordable quality",  the director of Sharkoon Technologies Johannes Schneider says the hardware maker wants to expand out from the headsets that they're known for and bring that "same attention to detail to a full range of gaming accessories."
The new line will encompass some very nice looking keyboards and mice- as well as custom surfaces to use them on. Pretty cool looking stuff for a first offering.

To complement these top-quality gaming mice, Sharkoon has created two ultra-fine gaming mouse mats. These highly durable mouse mats combine an extremely strong cloth material with DurableStitch sewing to ensure smooth, non-fray sliding and maximum accuracy, and also incorporate the finest natural rubber base for an incredibly secure grip to any surface. These gaming mouse mats come in two suave designs-the DarkGlider Pad and the Drakonia Pad-to match their counterparts.
The advanced gaming keyboards from Sharkoon also offer the features necessary for maximum gaming performance, such as programmable features for your personalized combat arsenal, and are available in two sleek designs. These include the Tactix-the minimalist gamer's compact model-and the Skiller, a standard 3-block gaming keyboard that features 20 additional multimedia keys.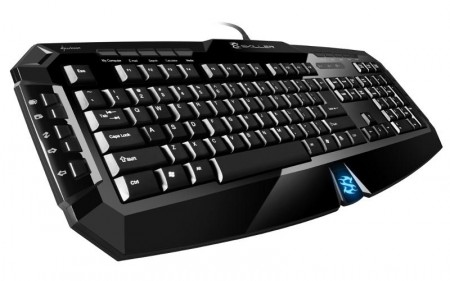 Features of the Tactix and Skiller include:
Eight swappable gaming keys
Complete N-Key rollover support
Support for up to ten different profiles with three layers each
Fully programmable keys, including options for personalized macros, macro loops, keystrokes, media functions, internet functions, and mouse functions
Look for Sharkoon's full line of PC gaming mice and keyboards at retail stores now.