The Wii U isn't the only console releasing this Holiday season. It might not be new per say, but pre-orders kick off for SNK/Playmore's anniversary NEOGEO starting now.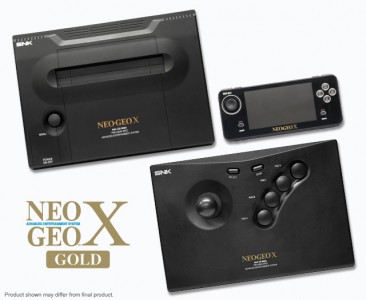 As far as anniversary or celebratory releases go, this is a pretty darned good one. The NEOGEO X Gold is actually a pair of consoles in one and offers both a full on home and handheld experience (think Turbografx/Turbo Express).
I had picked up a NEOGEO CD when it was released, but I remember well the earliest days of the original console. Seeing that MASSIVE box staring at me from the window of my local game shop (yes Virginia, there were privately owned toy/game stores back then) was such a tease. To say that that first offering from SNK (at the time) was expensive is probably a giant understatement- the X Gold, however, will cost you a little less.
The standard box set will also include 20 NEOGEO classics (built in) and, if you order one up now, you'll be treated to a 21st title for free. Ninja Masters will be included for early birds as a 'thank you' for supporting the console.
Early adopters and fans who reserve the highly anticipated NEOGEO X GOLD Limited Edition (from participating retailers) on or before its worldwide release date of December 6, 2012 will receive a limited edition NINJA MASTER'S game card for use with the NEOGEO X Handheld, while supplies last.

 Originally released in arcades and on the NEOGEO console in 1996, NINJA MASTER'Sfeatures 12 playable characters, and lightning-fast 2D fighting action that allows players to switch between hand-to-hand and weapon-based combat on the fly, offering huge combo counts and multiple styles of play. Choose the fighter that suits your skill level and play style and defeat all challengers in this ninja-themed fighter from ADK and SNK.

Interesting to note is that Ninja Masters ships on a "game card". When I first saw the console earlier this year, I kind of assumed that it would be a 'what you see is what you get' kind of thing. A one off that would be more of a collector's item than anything else.
The fact that it'll support game cards is pretty great news if you were thinking about one of these bad boys, since there's the chance for more games. Though what you'll be getting in the starter pack should keep you button mashing for a while all by itself.
Here's what's in the box:
The NEOGEO X GOLD Limited Edition includes:

The NEOGEO X Handheld – 4.3″ LCD screen, stereo speakers, 16:9 and 4:3 display options
The NEOGEO X Station – houses NEOGEO X Handheld for charging and audio/video output capabilities via HDMI and composite cables (for a true "classic" experience)
One NEOGEO X Arcade Stick – Authentic arcade experience, for use with the NEOGEO X Station
20 Pre-Loaded Classic NEOGEO® AES games:

3 COUNT BOUT
ART OF FIGHTING
ALPHA MISSION II
BASEBALL STARS II
CYBER LIP
FATAL FURY
FATAL FURY SPECIAL
THE KING OF FIGHTERS '95
KING OF THE MONSTERS
LAST RESORT
LEAGUE BOWLING
MAGICIAN LORD
METAL SLUG
MUTATION NATION
NAM 1975
PUZZLED
REAL BOUT – FATAL FURY SPECIAL
SAMURAI SHODOWN II
SUPER SIDEKICKS
WORLD HEROES PERFECT

Limited Edition Bonus: NINJA MASTER'S NEOGEO X Game Card
The NEOGEO X Gold will be available on December 6th and will run you $199.99 USD. Pre-orders are being taken now at amazon.com and  gamestop.com, and you'll also be able to order one for yourself  (while supplies last- this is a pretty limited release) at Best Buy, WalMart, Target, Toys R Us, and AAFES after launch.