Activision and LG are teaming up to give gamers a little incentive to go 3D with LG's new lineup of sets. But the best feature of the CINEMA 3D TV's might just be in 2D.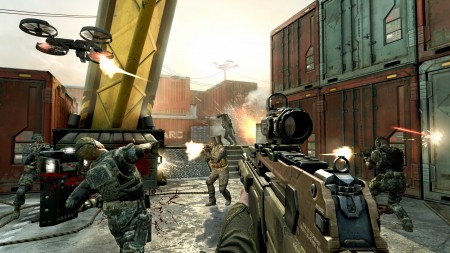 I know that doesn't make a whole lot of sense, but it has everything to do with a new feature LG's come up with called Dual Play- we'll get to that in a second.
For their parts in things, Activision's Call of Duty: Black Ops 2 will fully support the third-dimensional enhancement across all it's various game modes (including zombies); and LG will be offering a discount of some type starting up on 11/13 and ending on the 21st (at "select retailers") to get you a little more interested in an upgrade. (Qualifying LG CINEMA 3D TVs are the following series: LM9600, LM8600, LM7600, LM7200, LM6700, LM6200 and G2.)
"LG is excited to be a part of this historic launch of Call of Duty: Black Ops II to bring 3D gaming to life," said James Fishler, senior vice president, marketing and go-to-market operations, LG Electronics USA, Inc. "From the intensity and cinematic visuals, to the attention to detail and heart-pounding gameplay, Call of Duty: Black Ops II in 3D further legitimizes the 3D gaming movement, and we're proud to help the amazing fanbase of theCall of Duty® community enjoy it on LG CINEMA 3D TVs."
The long and the short of it is that consumers will get a special discount from LG when purchasing a copy of Black Ops 2 and an LG CINEMA 3D TV during the specified time frame. Chances are you'll be able to take advantage of the promo, should you be ready to take the plunge, as it will be running in some 2,000 electronics stores across the US.
As for that '2D' feature I mentioned, this is actually a really cool idea and the headline part of the new TV's as far as I'm concerned. Dual Play Technology (which is what they call it) allows two players to play on the same screen without split-screening the experience. So no little boxes when you and a pal are playing in the same room.
Basically what happens is that the television actually displays a pair of full screen images at the same time. Special glasses (sold separately) then filter one image per player through- allowing for a full screen play session for both players using only one monitor. And that's pretty awesome.
Dual Play works by applying LG's CINEMA 3D technology to a 2D split-screen game; the effect is two 2D images projected simultaneously. Dual Play glasses (required and sold separately) come with either two left- or two right-eye lenses, so instead of combining those images, the lenses filter only one image to each user. The result is the magnificence of the full screen for both players. Gamers have no fear, Dual Play works with most current gaming systems or even older consoles as long as it is a split-screen game.
If you'd like to check out the televisions for yourself (and catch a special pre-release trailer of Black Ops 2 in 3D) check out your local Best Buy- you might want to call first though as only select stores will be hosting the festivities.
Call of Duty: Black Ops 2 will be on store shelves on November 13th for the Xbox 360, PS3, and PC. That release will then be followed by the launch of the Wii U version on November 18th. And once again, the LG promotion runs from November 13th through the 21st- you can check out more about that here.