iHeartRadio has officially launched Master Chief Radio. So what exactly does the man in the Mjolnir suit listen too anyway? (and does it have built in speakers?)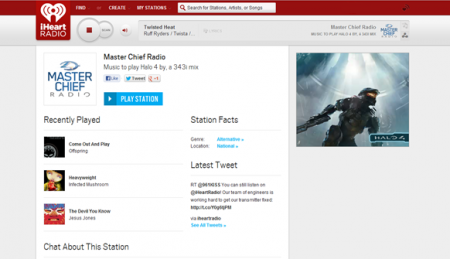 Actually, the new radio station has less to do with John 117 and more to do with Halo 4's developer, 343 Industries. All the tunes played on the station will be the music that was cranking in the devs offices as they put the actual game through it's development paces.
In advance of the worldwide release of "Halo 4" on Nov. 6, Clear Channel's iHeartRadio is launching "Master Chief Radio," giving fans the ability to enjoy an exclusive digital radio station featuring the songs and artists that helped inspire the "Halo 4" development team, 343 Industries. Clear Channel's world class programmers received exclusive access to the developers' playlists to create the iHeartRadio original station. "Master Chief Radio" showcases music from artists such as deadmau5, Jadakiss, Beastie Boys, Eminem, Metallica, Bob Dylan and more.

Beginning today, Oct. 11, "Master Chief Radio" is available on iHeartRadio through the Xbox LIVE app, iHeartRadio.com and the iHeartRadio mobile app. iHeartRadio on Xbox LIVE is a free, all-in-one digital radio app that lets you listen to more than 1,500 of the nation's most popular live broadcast and digital-only radio stations from 150 cities, plus user-created custom stations from a catalogue of 14 million songs and 400,000 artists.