Following up on Season 8 (that debuted in 2007), Season 9 is just around the corner. Fans can get ready to sink their fangs into more Angel & Faith, Spike, Willow, and of course- Buffy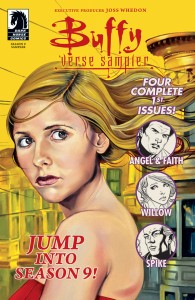 Series creator (and Avengers  director) Joss Whedon was actually helming the ship on season 8 and it was a big hit with fans of the show, selling out across multiple printings.
Since then, Dark Horse has launched three other separate titles set in the Buffy the Vampire Slayer universe: Angel & Faith, Willow, and Spike. Now to prep fans for the oncoming second 'season' of the Buffy comic (and spiritual 9th season of the television show) Dark Horse will be producing a special Buffy 'verse Sampler issue set for release this January. Perfect for readers looking to jump on.
Following the success of Buffy the Vampire Slayer Season 8, Dark Horse launched four separate series for the anticipated Buffy Season 9. Buffy Season 9 and Angel & Faith are direct follow-ups to Season 8, while Spike andWillow are spinoffs from those two ongoing series.
The book collects the first issues of the new runs of al three of the books mentioned above plus Buffy Season 9 #1. Four books, 96 pages- $4.99 USD.
Look for the Buffy'verse Sampler on store shelves and in digital format this January.