One thing you can always count on for the big 'cons are exclusives. If you picked up any  of Action Figure Express' Minimate exclusives from this past July's SDCC, then you're going to want in on part 2.
The San Diego Comic Con sets were focused on Thundercats and the Canadian Marvel super-team Alpha Flight. New York's version of the big show includes the same themes, but a completely different lineup of characters.
The 'Cats set is the perfect compliment to the SDCC pack as it's loaded with badguys. Vultureman, Jackalman, Monkian (I hated him in the cartoon!), and Slithe look to team up with your Mumm-Ra Minimate and take on the four heroes that were packed in with him- Lion-O, Jaga, Panthro, and Snarf (although calling Snarf a hero is a little bit of a stretch…).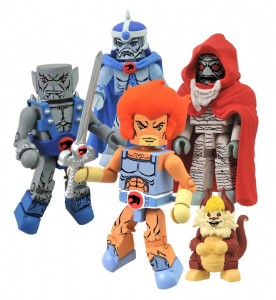 While the first Thundercats set from Icon Heroes consisted of mainly heroes, including Lion-O, Jaga, Panthro and Snarf, the NYCC set is all about the villains! Joining the first set's Mumm-Ra the Ever-Living are his lackeys, the four main Mutants: Slithe, Monkian, Jackalman and Vultureman. Each comes with a signature weapon, and Vultureman even comes with one of his robotic Wolfrats!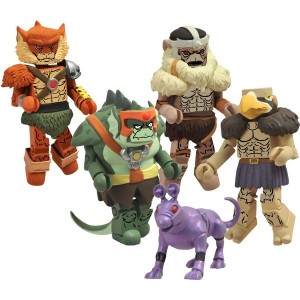 Instead of a bunch of baddies, the Alpha Flight set on hand for the show contains the remainder of the classic version of the snowbound team. Aurora, Snowbird, Shaman, and fan favorite Sasquatch round out the set and join San Diego's heavyweight package containing Guardian, Puck, Marrina, and Northstar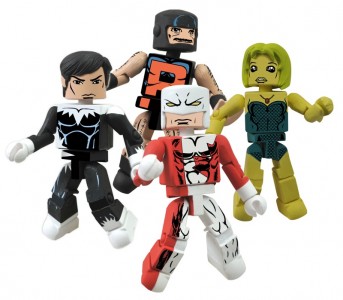 NYCC attendees will have the chance to pic up an entirely new Alpha Flight-themed Marvel Minimates box set at the show, featuring Sasquatch, Aurora, Snowbird and Shaman. In addition to the SDCC set's Guardian, Puck, Marrina and Northstar, the Canadian superteam will also get a two-pack of Vindicator and Box at Toys "R" Us this fall.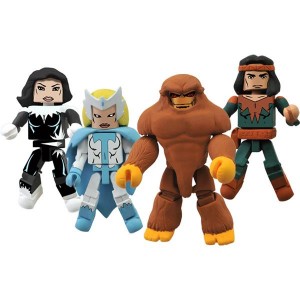 Both sets will be available at the Action Figure Express booth (#556). And if you can't make it to the Big Apple but still want these 'mates on your toy shelf,  you'll be able to order 'em up at actionfigureexpress.com after the NYCC closes.