The actor who portrays Kevin Bulter, the constantly-changing Vice President, is in hot water it seems.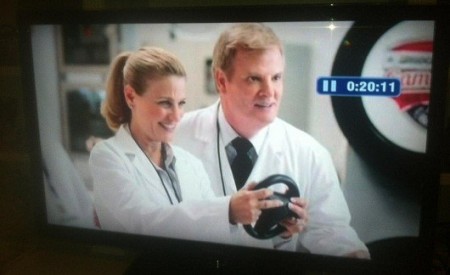 Jerry Lambert has portrayed the character of Kevin Butler, the Vice President of numerous Sony 'divisions', in humorous PlayStation 3 adverts for a number of years now. Certainly many will recall his time as the E3 speaker for Sony a few years back. He has become a brand within a brand, many on sites across the web rally behind him as if he is a real employee and instantly identify him with the Sony PlayStation brand. Lambert has recently been in a Bridgestone ad campaign which has landed him in some pretty hot water.
Lambert, who is actually president of his own ad agency, is being sued by Sony for breach of contract over this act. In the Bridgestone 'Game On' ad campaign he can be seen play a very similar character to Kevin Butler, but in these adverts he is playing a Nintendo Wii. The lawsuit is pretty heavy including breach of contract, violations of the Lanham Act, misappropriation and tortuous interference with a contractual relationship.
Sony have said: "We invested significant resources in bringing the Kevin Butler character to life and he's become an iconic personality directly associated with PlayStation products over the years," Sony's statement says. "Use of the Kevin Butler character to sell products other than those from PlayStation misappropriates Sony's intellectual property, creates confusion in the market, and causes damage to Sony."
It appears a settlement has been reached a few weeks back on the 26th of September but Sony still has a while to go before it announces if it will go ahead with the suit or withdraw it. Considering how pivotal the Kevin Butler character has been to Sony's revival in this console generation I'm surprised they let this slip for so long. Perhaps it's just another clever marketing move though, and we've all been suckered in. Dammit now I feel used.
Source: VentureBeat