The New York Comic Con is playing host to Dr. Frankenstein's monster in the form of a very cool, classically styled collectable.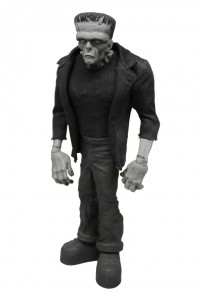 Assembled by a man of science, shocked to life by a bolt of lightning, and brought to the NYCC by Mezco Toys. The toy company has unveiled it's show exclusive for the east coast's biggest comic con, and it's a good one if you're into classic monsters.
Modeled after the landmark 1931 film depiction of Frankenstein's monster, this 9″ tall beast is available at the Con in a special black & white edition at the Mezco booth (#1960) for all four days of the show- October 11th through the 14th.
This 9″ scale Frankenstein features a real cloth coat and shirt. His finely detailed body boasts ten points of articulation and is covered with scars from his assembly. Each Frankenstein is packaged in his own collector friendly display box.
Now if you miss the show, you can still get in on the classic scares by heading to MezcoToyz.com as a small amount of the figures will be available for purchase there.