USA Today broke the story this past week that DC Comics' The Flash will be getting a new team on the creative end of things and a brand new guest star in form of the fan-favorite former man in red- Wall West.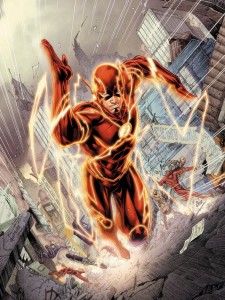 We haven't seen old Wally since the DCU snapped out of Flashpoint and into the New 52 universe that it's currently represented by. If you're not familiar with the character, Wally was Barry Allen's (the current and former Flash) sidekick for decades under the Kid Flash name.
Barry was written out of continuity during the Crisis on Infinite Earths miniseries years ago and Wally took over the role of his former mentor full time. That stint lasted until Barry was brought back from the 'dead' not all that long ago and re-took the mantle of the scarlet speedster.
He was still very much a part of the DCU though- that is, until the advent of the New 52. Leading into DC's big makeover, Flashpoint saw Barry racing through an altered universe trying to set things right again. Although he succeeded, the universe that he created was something of a new record of things that effectively rebooted the DCU back to its roots. As for Wally West, he vanished and hasn't been seen or talked about officially till now. I say 'officially' because fans never forgot the character and that's probably one of the main reasons for his resurrection.
Debuting on the book, along with Wally, will be the writing team of Robert Vanditti and Van Jensen as well as the talented pencils of artist Brett Booth. All three of those names should be instantly recognizable for comic fans and Venditti is actually a favorite of ours here at BG as he's pens the excellent X-O Manowar series for Valiant Comics and will be writing the X-O (and Unity) spinoff miniseries Armor Hunters for them as well.
There's been a preview image released for The Flash Annual #3 as well that shows a blue version of the title character. Public opinion is that that's Wally, but some hints dropped recently by artist Brett Booth at website CBR tell a different story. Also, remember that when Wally West introduced way back when, he was a more or less a kid (hence the Kid Flash name). Could this be the way that DC is going again? I'd say to bet on it since they've effectively rolled back time in the New 52 Universe.
Click through here to the original USA Today story for more and to have a look at the preview pic. The Flash Annual #3 speed onto the racks this April from DC Comics.