The longtime X-Man's new solo book will feature one of the greatest X-Men writers of all time penning the scripts.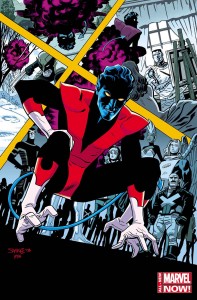 In many ways, Nightcrawler #1 represents a view of the modern day X-Men through the eyes of a past member who hasn't been in the loop for a while. Remember that Kurt Wagner (Nightcrawler) has been out of commission in Hell (long story) and has no idea what the X-teams look like today.
As Marvel points out, Wolverine is the headmaster at the Jean Grey school, Cyclops is basically a fugitive and Professor X is dead. That's a sharply different world than the one old Kurt left behind and one that should make for some very interesting reading for fans- especially lapsed ones. Casting Claremont as the lead writer is a nice move too as he wrote the X-Men in the golden age of the mutant team and is a huge fan favorite.
Both he and artist Todd Nauk are nothing but pumped to get into the X-verse as they both comment here on the character of Nightcrawler:
"He's smart, tough, creative and daring, with an instinctive understanding of people and situations. He has a wicked sense of humor and a devastating charm," says Claremont, in an interview with Marvel.com. "His 'normal' is revolutionary to most people; throw him a problem, he'll find a way to solve it that's unique to him. He quite simply is the kind of man others trust; to know him is to have faith in him."

"Nightcrawler has been one of my all-time favorite X-Men," says artist Todd Nauck. "He's a fun, cool character and he's easy to care about. He's a guy you root for."
If you're a longtime fan, this is one not to be missed. Bamf a copy into your collection when Nightcrawler #1 appears on the racks this coming April. And if you are one of those longtime fans, here's a little something to tide you over in the form of a sneak-peek at Nauk's concept art for Kurt's look.