Marvel Comics left pretty much everything to the imagination with a mysterious announcement this morning about a new project called Marvel #1.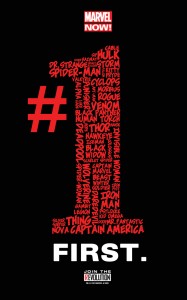 With the title of "Marvel #1" headlining, the press release looked like this:
Begin with the best super heroes in comics–Marvel does it FIRST!!

HUGE story coming soon to fans, worldwide.
That's not much to go on, but with a title like that and the very telling accompanying image, it could only mean so many things. Let's take a peek at a few of the possibilities shall we?
Could Marvel #1 be a new ongoing team-up book? While I'm a pretty big fan of self-contained team-up stories and would personally love to see a new Marvel Team-Up, I doubt this one holds water. Remember Marvel is touting Marvel #1 (whatever it may be) as a "HUGE" story. A new Team-Up, as cool as it might be, isn't really all that Earth shattering of an event.
Possibility number two is that we're looking at a little harder of a reboot for the Marvel U than 2012's Marvel NOW! initiative (that's still ongoing). Much like a new Team-Up book, I wouldn't mind seeing a New 52-style reintroduction to Marvel's classic stable of characters and their world. I've often said that a good deal of these heroes and villains have gotten too far away from who they were supposed to be originally and that their collective history could use a scrubbing and refining. The thing about this one though is that Marvel NOW! has been rolling along pretty nicely with some genuinely great stuff coming out (minor gripes and a few iffy storylines notwithstanding) on a monthly basis. I doubt the House of Ideas would go ahead and reboot (to any degree) now. Not yet anyway.
And then there's option three- what if we're just looking at a bunch of new #1's? While not necessarily 'reboots' per say, new first issues are a pretty big deal in the industry and would be very big indeed if we're talking about this many headline characters (check some of the names in the artwork). Definitely be something you could call "HUGE".
Whichever of these options Marvel #1 turns out to be (and it'll probably be none of the above), we'll let you know as soon as we do. In the meantime- let the speculating commence!