Todd McFarlane's hellacious superhero is coming to Call of Duty, but he's just a part of the Halloween-themed Season 06.
Where's Polterguy?
Wow is there a hell of a lot of Halloween content coming to Activision's premier shooter series. Dubbed "The Haunting", Season 06 for Call of Duty's current crop of titles is looking to crank up the horror, and that includes both unholy terrors and guest Operators. While yes, multiple versions of comic book hero Spawn (and related characters) are coming up, there's so much more and it's all pretty freaking cool.
For starters, Spawn will be joined by Operators that include characters and licenses like Skeletor, Evil Dead 2, and Hellsing. But that's just the stem o' the pumpkin, because there's also a Diablo crossover that will see Lilith and Inarius take the battlefield, and the addition of a Doom Weapon Bundle. That makes us wonder how Lilith would do against a BFG blast…
Oh but don't daydream too much, because even all of that's far from all. Season 06 will also pack in 4 new maps, new weaponry, and the return of The Haunting. A good chunk of the trick-or-treat action kicks off for all versions of Modern Warfare II and Warzone 2.0 on September 27th at 9am pacific time, with The Haunting content going live on October 17th.
Scroll down for the general overview of the new content, right from Activision, or click here for a deeper dive into what's coming by way of the Call of Duty blog.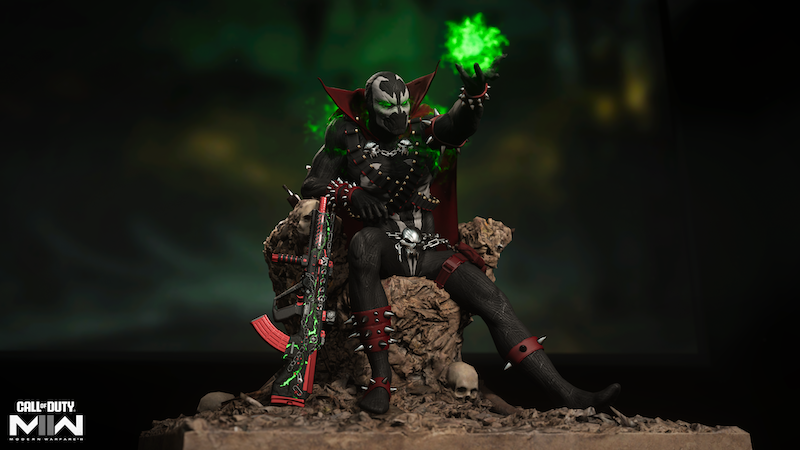 CALL OF DUTY: WARZONE OVERVIEW
Operation Nightmare is a GO: Coming at mid-season, investigate eldritch anomalies across the map, and face a host of monstrous targets as you gradually clear a Bounty board of otherworldly terrors!
Welcome to Vondead: A demonic incantation unleashed an uncontained zombie outbreak across Vondel. The undead have ravaged the streets under a bloodred moon. Shocking secrets are waiting to be discovered!
Zombie Royale is back for both maps: Tear into this infamous limited-time mode at mid-season, with all-new innovations but the same chaotic premise — return to battle as a fast-moving Zombie. Survive, or get eaten!
Lockdown returns, otherworldly loot, and events: Head to Vondel for more Lockdown action, gather Souls for in-game rewards, and prepare for plenty of jump scares, eldritch equipment, and much more.
MODERN WARFARE II OVERVIEW
Two Core, two Gunfight Maps at launch. Deploy to one new original and one returning map in both Core and Gunfight, from an extravagant Las Almas estate to a classic live fire range where kings reign.
Two Haunting Map reskins. El Asilo celebrates Día de Muertos, while Embassy becomes the site of a bloody zombie attack.
A frightening twist on classic modes. Jump scares, skulls, zombies, and more descend on your favorite classic modes, including twisted takes on Domination, Kill Confirmed, Grind, Drop Zone, and Infected.
GENERAL OVERVIEW
Gear up with new weapons. There's no horror too great when you've got these weapons in hand. Take on enemies with a new Assault Rifle, SMG, a Melee weapon, and a Chainsaw last used on Phobos…
BlackCell introduces V4L3RIA. The latest in robotics is ready for deployment as V4L3RIA arrives to lead the BlackCell offering, along with her Tactical Pet named Megabyte.
Spawn headlines the Battle Pass. The multiple forms of antihero Spawn headline the Season 06 Battle Pass, featuring additional Spawn Operator Skins alongside other monsters and maniacs arriving straight from the underworld.
Open the Gates of Hell. The Gates of Hell have sprung open to reveal . . . the first glimpse of Season 06's Halloween-themed Bundles and Operators!