Heading to SDCC today? Then you might want to swing past nick, the iconic brand is bringing a heck of a lot of cool stuff to the booth.
nick-nick-n-nick-nicknick
Always ready to put on a bright (and orange) show is nickelodeon. The kids-aimed channel has been around for decades, and there's a very good reason for its staying power. Namely, that nick has some of the best-loved properties of all time, to go along with a constantly evolving lineup of shows. And as goes the brand's showing at Cons, well you best believe the booth is almost always worth a visit.
This year seems to be right in keeping with that sentiment, as nickelodeon loads up with the new Teenage Mutant Ninja Turtles: Mutant Mayhem feature film, an activation based on Good Burger 2, and a dose of Avatar: The Last Airbender for good measure. That's in addition to a shop that you can visit to take some fun home with you, and of course some giveaways.
Here's what's on tap:
DAILY BOOTH ACTIVITY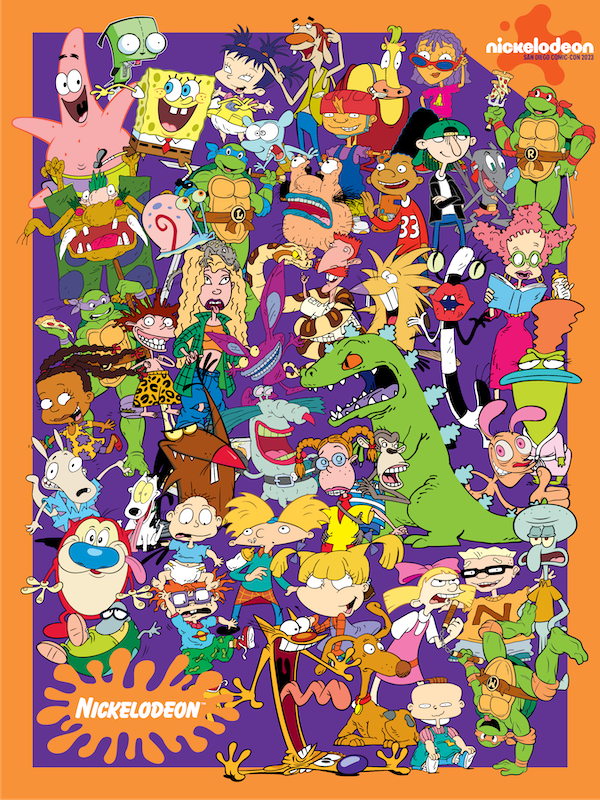 Teenage Mutant Ninja Turtles: Mutant Mayhem Photo Opportunity and Experience: Turtle fans can take photos with a giant 12-foot-long skateboard and learn about Leonardo, Raphael, Donatello and Michelangelo on an interactive screen.
Good Burger 2 Experience: Step inside a detailed recreation of the famed restaurant outfitted with props and signage from the actual Good Burger 2 movie set, including the Good Shake machine, tables and tabletop elements, sauce bottles and more. Approved by Ed himself, compete against the clock and another player to virtually smash as many burgers as possible before time runs out in original game, Good Burger Smash. Before exiting the Good Burger restaurant, snap a picture inside the photo booth to share via social media.
Avatar: The Last Airbender Activation and Photo Opportunity: What's your element? Answer a 5-question personality quiz to discover your element – air, earth, fire, or water. Fans will receive a printed trading card featuring their photo and element. Welcome to the Avatarverse! Don't' leave without snapping a photo with life-size cutouts of Aang, Sokka, Katara, Toph, Zuko and the Cabbage Merchant from original the Avatar: The Last Airbender.
Customized T-Shirt and Flip Flop Station: Fans can purchase t-shirts and flip fops at the retail shop and create their own custom-design from a choice of 15 fan-favorite Nick shows and characters. Items are ready within minutes!
Costumed-Character Appearances: Leonardo, Raphael, Donatello and Michelangelo of Teenage Mutant Ninja Turtles: Mutant Mayhem will make appearances at select times.
Retail: Attendees can purchase Comic-Con exclusive figures and collectibles, t-shirts, pins and more.
Giveaways:  Special giveaways and posters will be handed out throughout the convention.
EXCLUSIVE AND LIMITED-EDITION PRODUCTS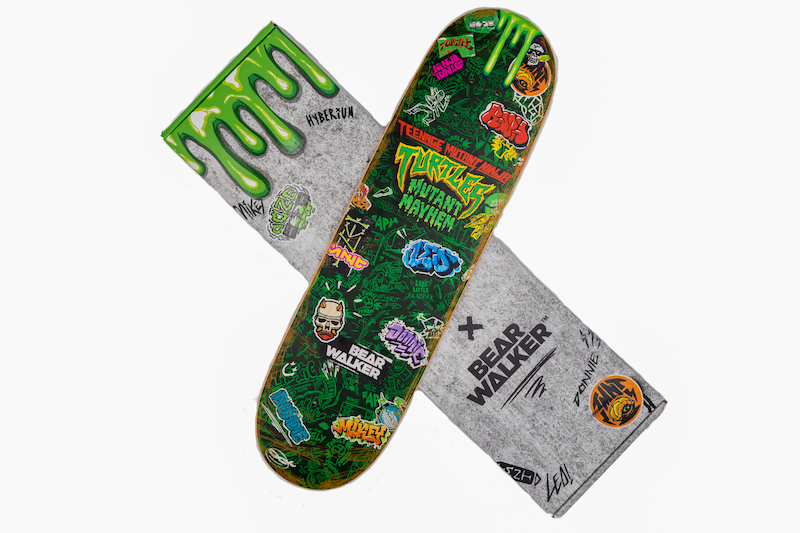 Teenage Mutant Ninja Turtles: Mutant Mayhem Bear Walker Official Skateboard

The official cruiser for Teenage Mutant Ninja Turtles: Mutant Mayhem! This Mutant Mayhem x Bear Walker skate deck is handcrafted in the USA and utilizes official movie artwork in collaboration with Bear Walker and Paramount Pictures. Debuting at Comic-Con, the top of the board features a carved-out design for grip and is accompanied with premium packaging and a numbered certificate of authenticity. Swing by the Nickelodeon booth on Thursday, July 20 between 5:00 p.m. – 6:00 p.m. to have your board signed by Bear!
SRP: $250.00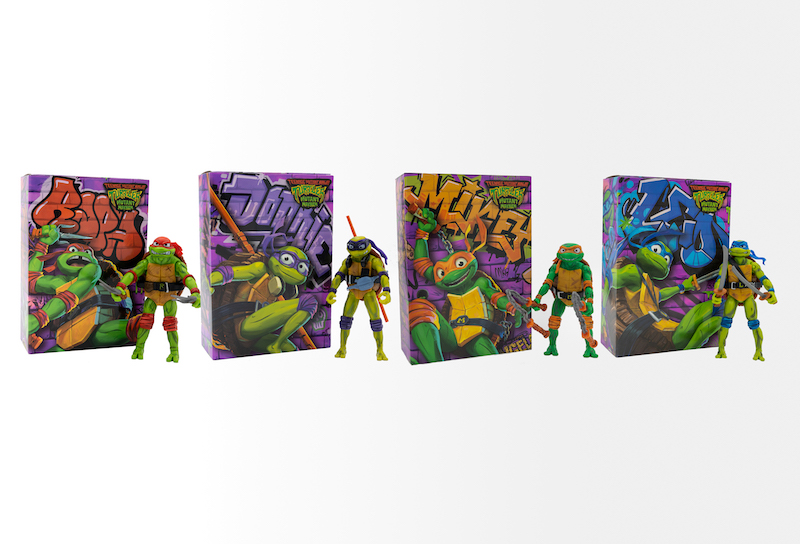 Teenage Mutant Ninja Turtles: Mutant Mayhem Playmates Action Figures

These limited-edition Donatello, Raphael, Michelangelo, and Leonardo action figures based on the upcoming blockbuster movie feature collector-quality decoration and articulation, and enhanced TMNT weapon accessories – perfect for fighting off an army of mutants! Each figure is packed in a Mutant Mayhem graffiti-style package with a protective sleeve from Playmates Toys…the official headquarters of Teenage Mutant Ninja Turtles action figures for over 35 years! 
SRP: $30.00

Classic Teenage Mutant Ninja Turtles Iron Studios Minico Statues 

Take a journey into the sewers to sharpen your ninjutsu skills with these stylized statues of the Heroes in a Half Shell! Debuting at SDCC 2023, this line evokes the fun and unique visual style of the comic books. Collect all four!
SRP: $40.00 each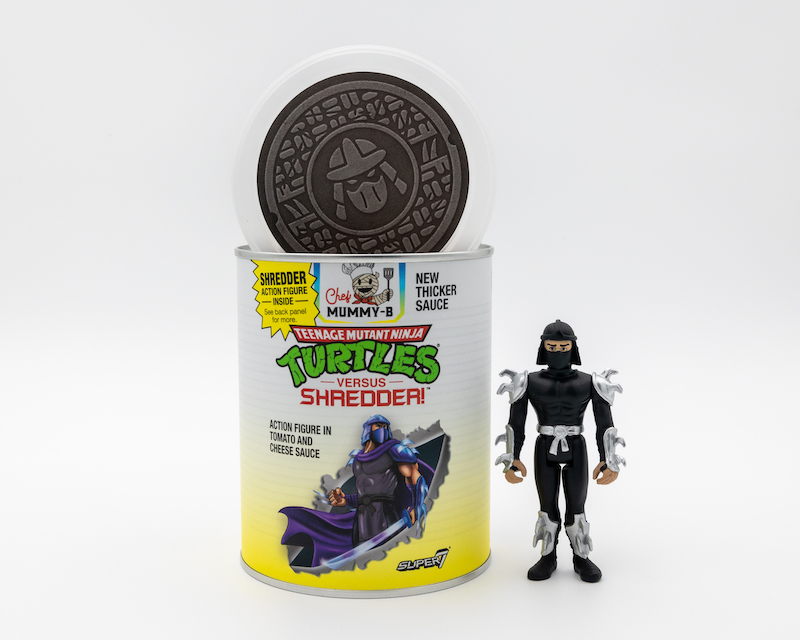 Teenage Mutant Ninja Turtles Super7 ReAction Shredder Collector Figure in Pasta Can

Join the devious Foot Clan with this SDCC 2023 exclusive featuring Shredder! Inspired by the vintage Shredder-in-a-Can mail-in promotion figure, this collector figure comes packaged in a TMNT-themed replica pasta can.
SRP: $25.00

Avatar: The Last Airbender "Toph" Disliz Watch

You may not be able to master Earthbending, but you can certainly master time with a Limited Edition Disliz Watch featuring fan-favorite characters Toph and Momo from Avatar: The Last Airbender. There are only 200 in stock, so grab one while you can!
SRP: $50.00

Nickelodeon x San Diego Comic-Con 2023 Zen Monkey Pins

Attention all pin collectors! Nickelodeon's partner Zen Monkey Studios is celebrating its 10th anniversary by offering 250 of these SDCC 2023 exclusive golden pins with sparkles and glitter of Arnold with Gerald from Hey Arnold! and Appa from Avatar: The Last Airbender. 
SPR: $15.00 each

Nick '90s Poster

The '90s are back! This 18" x 24" poster on premium glossy paper features classic Nick characters from series including SpongeBob SquarePants, Invader Zim, Rocket Power, and so many more. Hang it on your wall and see how many you can count! 
SPR: $20.00 each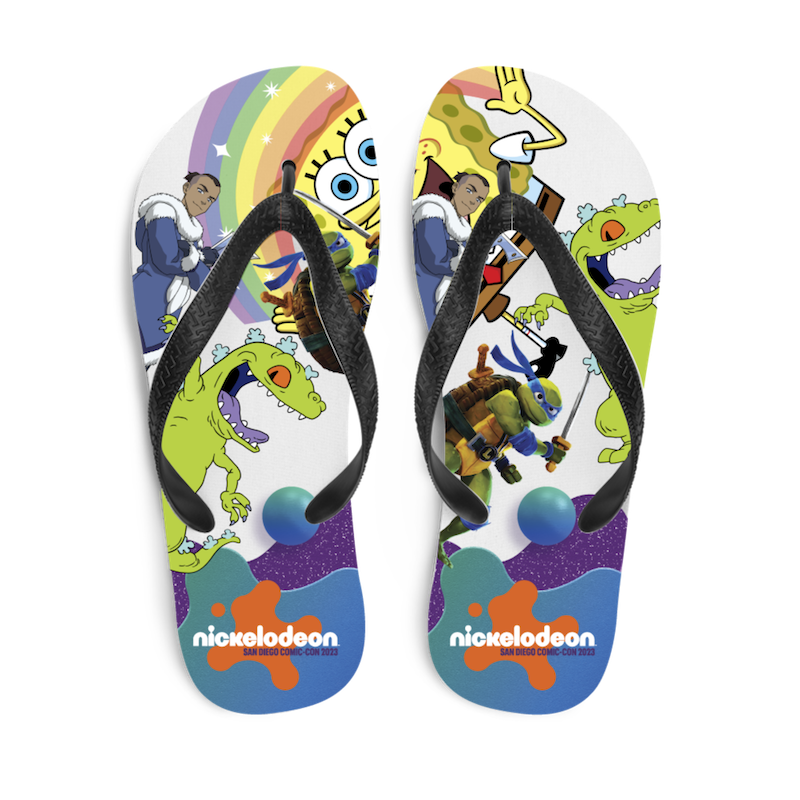 Customized T-Shirt and Flip Flop Station

Fans can purchase t-shirts and flip fops at the retail shop and create their own custom-design from a choice of 15 fan-favorite Nick shows and characters. Items are ready within minutes! T-Shirt SRP: $20.00
Flip Flop SRP: $15.00