It's May the Fourth, and you know what that means. Star Wars takes the spotlight on the Nintendo Download, with a special bundle and more.
A Jedi's Heritage
Well here we are in another May the Fourth, albeit one with nothing really new out there. Yes there's Star Wars: Jedi Survivor, but that's not exactly available on the Switch is it? So what's a Nintendo-playing Star Wars fan to do? Well, how about explore the rich history of Star Wars games that are ready for download?
Included in a bundle deal called the Star Wars Heritage Pack is a gaggle of games from that Galaxy Far, Far Away. Those include Republic Commando, KOTOR, The Force Unleashed, and others. Plenty of stuff to keep you well occupied this Star Wars day, and for a while more.
Then on top of that, there's also a special Fortnite event running right now that features a bunch of Star Wars crossovers. That's dubbed Find the Force, and includes the likes of Darth Maul, Obi-Wan Kenobi, Anakin Skywalker.
On the flip side, if you're not looking for Star Wars stuff at all, there's still more, as there are a bunch of the usual smaller game launches to check out.
Nintendo eShop on Nintendo Switch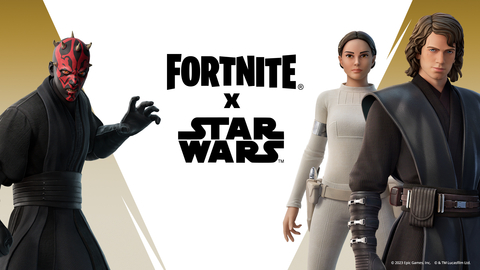 Fortnite – Fortnite Battle Royale takes a look back in the STAR WARS timeline with Find the Force. Running until May 23, 2023, at 9 a.m. ET you'll be able to choose your trainer. Obi-Wan Kenobi and Anakin Skywalker as your Jedi trainers or Darth Maul as your Sith trainer. Use Force abilities taught by one of these lightsaber-wielders to show your opponents the way of the light … or dark side. These abilities include Force Push, Force Pull and Force Throw. Complete Quests, earn cosmetic rewards, purchase the Premium Reward Track Upgrade and more in Fortnite's Find the Force.
STAR WARS Heritage Pack – Learn the way of the Force from Jedi Master Luke Skywalker, take control of a speeding Podracer and lead an elite squad of clones! The STAR WARS Heritage Pack features seven classic games including STAR WARS Jedi Knight II: Jedi Outcast, STAR WARS Jedi Knight: Jedi Academy, STAR WARS Episode I Racer, STAR WARS Republic Commando, STAR WARS: The Force Unleashed, STAR WARS: Knights of the Old Republic and STAR WARS: Knights of the Old Republic II: The Sith Lords.
Game Trials:
Face the Music – Bust some moves and keep Hyrule safe with this week's free game trial!* Enjoy the gameplay of Crypt of the NecroDancer in the setting of the Legend of Zelda series in Cadence of Hyrule: Crypt of the NecroDancer Featuring The Legend of Zelda. You must be prepared to face Hyrule's most wicked bosses, which have been transformed by magic, granting them mighty forms! Nintendo Switch Onlinemembers can try out the full game for free until May 7 at 11:59 p.m. PT. If you decide to buy the game during or after this offer, you'll keep all save data, so you won't have to worry about losing your progress. Plus, you can also purchase Cadence of Hyrule: Crypt of the NecroDancer Featuring The Legend of Zelda, as well as its DLC**, at a 50% discount in Nintendo eShop until May 14 at 11:59 p.m. PT. This discount applies to the Crypt of the NecroDancer featuring The Legend of Zelda + Cadence of Hyrule Season Pass bundle!
Activities:
Splatoon x The Legend of Zelda Splatfest – The Legend of Zelda: Tears of the Kingdom game launches on May 12, but before you get to Hyrule you're going to want to drop your anchor, because a special The Legend of Zelda inspired Splatoon 3 Splatfest event* is sailing into view! That's right squiddo, the Inklings and Octolings of the sun-scorched Splatlands are getting adventurous with a Splatoon x The Legend of Zelda Collaboration Splatfest! This limited-time event splashes down on May 5 and poses a question that fans of The Legend of Zelda may recognize: Which do you seek? Power, Wisdom or Courage? The Splatfest will take place from Friday, May 5, at 5 p.m. PT to Sunday, May 7, at 5 p.m. PT, but you can make your selection in Splatoon 3 beginning today! Plus, a limited-time bundle (containing the Splatoon 3 game and a 3-month individual membership for Nintendo Switch Online) is also available for purchase. This digital bundle is available until May 7 at 11:59 p.m. PT.
My Nintendo MLB The Show 23 Sweepstakes – Enter for a chance to win an exclusive swag bag that includes branded gear and prizes!*** You could win a captain edition tee, starter jacket and a duffel bag! My Nintendo members can redeem 10 My Nintendo Platinum Points**** to enter, with up to three entries total. Five lucky winners will be picked. Enter today!
Nintendo eShop sales:
Nintendo eShop on Nintendo Switch

Aspyr STAR WARS Day Celebration Sale – May the 4th be with you! How do we celebrate our favorite time of the year? With classic STAR WARS games, of course! The sale begins today at 9 a.m. PT and ends on May 10 at 11:59 p.m. PT. Check https://www.nintendo.com/store/sales-and-deals/ when the sale goes live to browse your favorite titles!
Also new this week in Nintendo eShop on Nintendo Switch:
* Any Nintendo Switch Online membership (sold separately) and Nintendo Account required for online features. Membership auto-renews after initial term at the then-current price unless canceled. Not available in all countries. Internet access required for online features. Terms apply. nintendo.com/switch-online
** Full version of game required to use DLC. Sold separately.
*** NO PURCHASE NECESSARY. Void where prohibited. Open to legal residents of the United States and Canada (excluding Quebec) who are 13 years old or older. Sweepstakes begins 10:00AM PT on 4/26/2023 and ends at 11:59PM PT on 5/26/23. To enter, you must (1) have a Nintendo Account (if you do not have a Nintendo Account you can register for one at https://my.nintendo.com/; (2) visit https://my.nintendo.com/rewards/fb4ce0f2ffb40b67; (3) sign in to your Nintendo Account, and (4) redeem 10 Platinum Points per entry at the My Nintendo MLB® The Show™ Sweepstakes page (https://my.nintendo.com/rewards/fb4ce0f2ffb40b67) as stated in Official Rules. There will be five (5) winners. Each winner will receive one (1) MLB® The Show™ 23 Starter Satin Jacket (ARV $176.00), one (1) MLB® The Show™ Nike Utility Power Duffle (ARV $72.00), and one (1) MLB® The Show™ 23Captain Edition Mitchell & Ness Traditional Tee (ARV $50.00). Total ARV of all prizes: $1,490.00 USD. Odds of winning depend on number of eligible entries received. Details and restrictions apply. For Official Rules, visit https://www.nintendo.com/events/rules/mynintendo-mlb-the-show-23-official-sweepstakes/ Sponsor: Nintendo of America Inc., 4600 150th Avenue NE, Redmond, WA 98052. This Sweepstakes is in no way sponsored by any of the MLB Entities. Major League Baseball trademarks and copyrights are used with permission of Major League Baseball. Visit MLB.com.
**** A Nintendo Account is required to receive and redeem points. Terms apply https://accounts.nintendo.com/term_point. This offer is subject to the Nintendo Account User Agreement and the My Nintendo Rewards Program Terms of Service.